Today, Kevin reveals why the recession is a lie and why you are absolutely, 100% getting ripped off. Plus, get out a pen and paper; Kevin tells you exactly where to invest your money and whether it's better to rent or own in this type of financial environment.
Self Help:
Loss Fat FAST!
Stay Healthy For Life
Health:
Water Fluoridation Banned in 98% of Europe & Japan
Happy Meal Project
Deception:
HFCS Getting Rebranded To Trick Customers
Egyptian Newspaper Alters Image To Place Mubarak Up Front
Tony Blair Steals Line From Movie For Book
Higgins Caught on Camera Agreeing to Massive Bribe To Fix Match
NWO:
Pope Plot Suspects Released After Being Arrested On Suspicion Alone
Pentagon Attempts To Block Book on Afghan War
Everything Kevin:
Become An Insider!
Support Kevin!
Kevin is on YouTube!
Sign Up For Kevin's FREE Podcast
Follow Kevin on Twitter
Become Kevin's Friend on Facebook

Take Trudeau on the Go! Click here to download this show to your iPod, mp3 player, or PC through iTunes!


Click Below to watch The Kevin Trudeau Show LIVE!

September 10, 2010
Fox News
By: Catherine Herridge
On the eve of Sept. 11, Fox News has learned the U.S. Defense Intelligence Agency has attempted to block a book about the tipping point in Afghanistan and a controversial pre-9/11 data mining project called "Able Danger."
In a letter obtained by Fox News, the DIA says national security could be breached if "Operation Dark Heart" is published in its current form. The agency also attempted to block key portions of the book that claim "Able Danger" successfully identified hijacker Mohammed Atta as a threat to the United States before the Sept. 11, 2001, terror attacks.
In a highly unusual move, the Department of Defense is now negotiating with the publisher, St. Martin's Press, to buy all 10,000 copies of the first printing of the book to keep it off shelves — even after the U.S. Army had cleared the book for release.
Specifically, the DIA wanted references to a meeting between Lt. Col. Tony Shaffer, the book's author, and the executive director of the 9/11 Commission, Philip Zelikow, removed. In that meeting, which took place in Afghanistan, Shaffer alleges the commission was told about "Able Danger" and the identification of Atta before the attacks. No mention of this was made in the final 9/11 report.
Shaffer, who was undercover at the time, said there was "stunned silence" at the meeting after he told the executive director of the commission and others that Atta was identified as early as 2000 by "Able Danger."
"Dr. Philip Zelikow approached me in the corner of the room. 'What you said today is very important. I need you to get in touch with me as soon as you return from your deployment here in Afghanistan'," Shaffer said.
Once back in the U.S., Shaffer says he contacted the commission. Without explanation, the commission was no longer interested. An inspector general report by the Department of Defense concluded there was no evidence to support the claims of Shaffer and others. But Fox News has obtained an unredacted copy of the IG report containing the names of witnesses, who backed up Shaffer's story when contacted for comment.
Atta was the alleged ringleader of the Sept. 11 hijackers and piloted American Airlines Flight 11 into the World Trade Center.
Shaffer spoke to Fox News before he was asked by the military not to discuss the book. He confirmed efforts to block the book and other details.
Calling the move "highly unusual," he explained that the book had already been cleared for release when the DIA stepped in.
"Apparently, Defense Intelligence Agency took exception to the way the Army cleared the book," he told Fox News.
The documents and exclusive interviews, including an Army data collector on the Able Danger Project, are part of an ongoing investigation by the documentary unit "Fox News Reporting" which uncovered new details about American cleric Anwar al-Awlaki and efforts by the FBI to track and recruit him for intelligence purposes after 9/11.
Click here for the full report
September 20, 2010
The Sydney Morning Herald
By: Paola Totaro
The six men questioned by counter-terrorism police amid claims of a plot to kill the Pope have all been released without charge, Scotland Yard has confirmed.
The men, all reported to have been of North African origin, were arrested in the early hours of Friday in north London.
They were detained under Britain's Terrorism Act and held for more than 24 hours. Some were released late on Saturday night and others early Sunday.
Police have confirmed they searched eight houses in north and east London, two business buildings, and a depot used by a street cleaning company in their investigation. None of them yielded any weapons or material regarded as suspicious.
The BBC reported that Scotland Yard sources believed the men posed "no credible threat". A Sunday Mirror report suggested the allegations of a plot to kill the Pope had stemmed from the men being overheard making a joke in their work canteen.
The six men are 26, 27, 29, 36, 40 and 50 years old. Five of them were reported to be employed by the same company, which has 650 street-cleaning staff on its books and operates in the Westminster area.
The Terrorism Act is highly controversial because it provides extensive powers for police to arrest and detain people on suspicion of terrorism.
While it is accepted Britain needs an anti-terrorism code, criticism of its abuse has been vocal because the use of the term "reasonable suspicion" is subject to such wide interpretation.
Click here for the full report
September 8, 2010
The Telegraph
By: Tim Walker
Tony Blair's account of what was said when he went to kiss hands with the Queen in 1997 is perhaps the most controversial part of his memoirs because it represents such a flagrant betrayal of the trust that had previously existed between the monarch and her prime minister.
Now, in an intriguing twist to the affair, Peter Morgan, the screenwriter, tells me that he suspects the former prime minister took the line not from his actual conversation with the Queen, but his Oscar- winning film about her which starred Helen Mirren.
In A Journey, Blair claims that the Queen said to him: "You are my 10th prime minister. The first was Winston. That was before you were born." In Morgan's script to the 2006 film The Queen, Mirren, in the title role, tells Michael Sheen's Blair: "You are my 10th prime minister, Mr Blair. My first was Winston Churchill." Morgan tells me: "I wish I could pretend that I had inside knowledge, but I made up those lines. No minutes are taken of meetings between prime ministers and monarchs and the convention is that no one ever speaks about them, so I didn't even attempt to find out what had been said.
"There are three possibilities. The first is I guessed absolutely perfectly, which is highly unlikely; the second is Blair decided to endorse what I imagined as the official line; and the third is that he had one gin and tonic too many and confused the scene in the film with what had actually happened, and this I find amusing because he always insisted he had never even seen it."
Stephen Frears, who directed The Queen, laughed when I told him of the coincidence at the premiere of his new film, Tamara Drewe. "Now people will accuse us of bugging them," he said.
Click here for the full report
September 16, 2010
The Guardian
By: Jack Shenker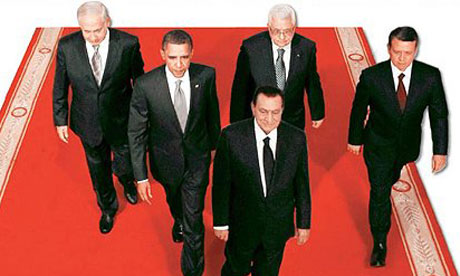 There are those who lead and those who follow, and the Egyptian newspaper Al-Ahram clearly feels that President Hosni Mubarak fits into the former category.
When he was pictured with the Israeli and Palestinian leaders, Binyamin Netanyahu and Mahmoud Abbas, trailing behind Barack Obama on the red carpet at the White House recently, it was nothing Photoshop could not fix. So, on Tuesday, the state-run daily Al-Ahram published the photo, taken at the launch of the latest Middle East peace talks – but with Mubarak switched to the front of the procession.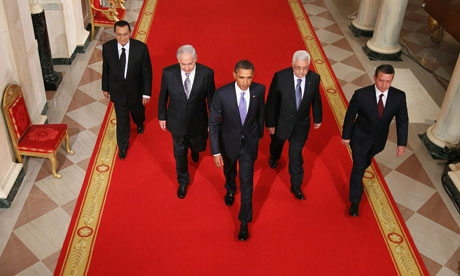 The doctored picture was exposed by the Egyptian blogger Wael Khalil and quickly struck a chord with Egypt's vibrant network of online opposition activists. Spoof versions have since appeared depicting the 82-year-old Mubarak landing on the moon, breaking the 100m world record and hoisting aloft the World Cup.
The controversy comes as the government gears up for parliamentary elections and amid rumours the authoritarian leader, who has ruled Egypt for nearly three decades, is seriously ill.
"I think what's significant is that Al-Ahram, the regime's mouthpiece, is clearly very sensitive about the way Mubarak appears to the general public in the current climate," Khalil said. "People have picked up on the photo because it's such a good insight into the way the government operates in Egypt; whenever there are problems or failings they simply try and gloss over them – you can see that in this photo, and you can see it in the way they run the country."
Al-Ahram is the most widely circulated Arabic newspaper in the Middle East and is known for its largely fawning coverage of the Egyptian government.
Its market share has been challenged in recent years by an increasingly bold crop of independent newspapers willing to adopt a more critical tone towards the ruling NDP party, a stance which has landed many independent editors in court.
By contrast Al-Ahram and other state-run publications have a track record of subtly "improving" pictures of Egypt's political elite, although usually in a less obvious manner than this week's example.
The scandal will come as a blow to Al-Ahram's director, Abdel Moneim Said, a former Egyptian senator who was thought to have presided over a slight revival of the 135-year-old newspaper's fortunes since taking the helm last year, following decades of mismanagement. Al-Ahram has so far failed to issue any response or apology for its actions, although the offending photo has been removed from the paper's website.
Although the incident has caused plenty of mirth at the president's expense, some are not amused. The anti-government 6 April Youth Movement said: "This is what the corrupt regime's media has been reduced to." It added that the newspaper had "crossed the line from being balanced and honest," and accused it of unprofessionalism.
The publication of the photograph coincided with the arrival of Abbas and Netanyahu at the Egyptian resort of Sharm El-Sheikh for the second round of talks under the current peace process.
Click here for the full report
September 16, 2010
AlterNet
By: Jeremy Scahill
Over the past several years, entities closely linked to the private security firm Blackwater have provided intelligence, training and security services to US and foreign governments as well as several multinational corporations, including Monsanto, Chevron, the Walt Disney Company, Royal Caribbean Cruise Lines and banking giants Deutsche Bank and Barclays, according to documents obtained by The Nation. Blackwater's work for corporations and government agencies was contracted using two companies owned by Blackwater's owner and founder, Erik Prince: Total Intelligence Solutions and the Terrorism Research Center (TRC). Prince is listed as the chairman of both companies in internal company documents, which show how the web of companies functions as a highly coordinated operation. Officials from Total Intelligence, TRC and Blackwater (which now calls itself Xe Services) did not respond to numerous requests for comment for this article.
One of the most incendiary details in the documents is that Blackwater, through Total Intelligence, sought to become the "intel arm" of Monsanto, offering to provide operatives to infiltrate activist groups organizing against the multinational biotech firm.
Governmental recipients of intelligence services and counterterrorism training from Prince's companies include the Kingdom of Jordan, the Canadian military and the Netherlands police, as well as several US military bases, including Fort Bragg, home of the elite Joint Special Operations Command (JSOC), and Fort Huachuca, where military interrogators are trained, according to the documents. In addition, Blackwater worked through the companies for the Defense Intelligence Agency, the Defense Threat Reduction Agency and the US European Command.
On September 3 the New York Times reported that Blackwater had "created a web of more than 30 shell companies or subsidiaries in part to obtain millions of dollars in American government contracts after the security company came under intense criticism for reckless conduct in Iraq." The documents obtained by The Nation reveal previously unreported details of several such companies and open a rare window into the sensitive intelligence and security operations Blackwater performs for a range of powerful corporations and government agencies. The new evidence also sheds light on the key roles of several former top CIA officials who went on to work for Blackwater.
The coordinator of Blackwater's covert CIA business, former CIA paramilitary officer Enrique "Ric" Prado, set up a global network of foreign operatives, offering their "deniability" as a "big plus" for potential Blackwater customers, according to company documents. The CIA has long used proxy forces to carry out extralegal actions or to shield US government involvement in unsavory operations from scrutiny. In some cases, these "deniable" foreign forces don't even know who they are working for. Prado and Prince built up a network of such foreigners while Blackwater was at the center of the CIA's assassination program, beginning in 2004. They trained special missions units at one of Prince's properties in Virginia with the intent of hunting terrorism suspects globally, often working with foreign operatives. A former senior CIA official said the benefit of using Blackwater's foreign operatives in CIA operations was that "you wouldn't want to have American fingerprints on it."
While the network was originally established for use in CIA operations, documents show that Prado viewed it as potentially valuable to other government agencies. In an e-mail in October 2007 with the subject line "Possible Opportunity in DEA—Read and Delete," Prado wrote to a Total Intelligence executive with a pitch for the Drug Enforcement Administration. That executive was an eighteen-year DEA veteran with extensive government connections who had recently joined the firm. Prado explained that Blackwater had developed "a rapidly growing, worldwide network of folks that can do everything from surveillance to ground truth to disruption operations." He added, "These are all foreign nationals (except for a few cases where US persons are the conduit but no longer 'play' on the street), so deniability is built in and should be a big plus."
The executive wrote back and suggested there "may be an interest" in those services. The executive suggested that "one of the best places to start may be the Special Operations Division, (SOD) which is located in Chantilly, VA," telling Prado the name of the special agent in charge. The SOD is a secretive joint command within the Justice Department, run by the DEA. It serves as the command-and-control center for some of the most sensitive counternarcotics and law enforcement operations conducted by federal forces. The executive also told Prado that US attachés in Mexico; Bogotá, Colombia; and Bangkok, Thailand, would potentially be interested in Prado's network. Whether this network was activated, and for what customers, cannot be confirmed. A former Blackwater employee who worked on the company's CIA program declined to comment on Prado's work for the company, citing its classified status.
September 20, 2010
CBS New York
As many as 500 cameras have been placed in nearly every corner of three of the busiest transit hubs in New York City – in the stairwells and on the platform.
All of them are keeping a close watch on who and what's going in and out of our subways.
Mayor Michael Bloomberg didn't waste time talking about the subways, "which we know terrorists regard as what they would call high value targets."
Bloomberg, NYPD Commissioner Ray Kelly and Metropolitan Transportation Authority chairman Jay Walder announced the city's newest security initiative on Monday.
Hundreds of MTA subway security cameras placed in Grand Central, Penn Station and Times Square are now directly piped into the NYPD's security operation center, allowing police eyes in places where they didn't have them before.
"And seated here in the operation center … we have police officers reviewing this information 24 hours a day," Kelly told CBS 2′s Scott Rapoport.
It's part of a plan that was initiated in 2005. The MTA cameras are now joining the more than 1,000 security cameras that are already in place in lower Manhattan, on which the NYPD keeps a watchful eye.
It's a significant move in the wake of May's failed Times Square bombing and the plot of Najibullah Zazi year ago to bomb subway trains.
"We are also beginning to use software that identifies potentially suspicious objects or behaviors," Kelly said.
Earlier this year, Mayor Bloomberg went to London on a fact-finding trip involving that city's vast network of 12,000 cameras monitoring the train system.
It's something MTA chief Walder is familiar with and something he said makes sense for New York.
"We've taken on the unwanted distinction as one of the leading terror targets in the world," Walder said.
News of the move was greeted fondly by a lot of subway riders.
"I think it's a very good idea quite honestly," one person said.
"Absolutely. Why not? Like, it's our protection," added Blake Clendenin of Hell's Kitchen.
"It's an invasion of privacy, but if I'm in the subway I like the cops looking over my shoulder," added Barry Zimmerman.
And the mayor and the police commissioner said they're not done yet, with more camera hook-ups coming soon.
The New York Civil Liberties Union said it has questions about the surveillance program regarding privacy issues and who has access to the information gathered.
It said it has previously sued the NYPD and Department of Homeland Security for access to that information and that both of those suits are ongoing.
Click here for the full report
September 21, 2010
Yahoo! News
A rocket carrying classified satellite cargo has been successfully launched from Vandenberg Air Force Base on California's central coast.
A release from the base says the Atlas 5 rocket carrying a national security payload for the National Reconnaissance Office was launched Monday shortly after 9 p.m.
No details about the satellite's orbit or capabilities were released.
The launch was a project three years in the making by Vandenberg's 30th Space Wing, the United Launch Alliance and the NRO, which oversees the nation's constellation of spy satellites.
Click here for the full report
September 20, 2010
Bloomberg
By: Mike Dorning
The U.S. has fallen behind emerging markets in Brazil, China and India as the preferred place to invest, a Bloomberg survey shows, though the world's largest economy still ranks highest of all major developed countries.
The U.S. ranked first three months ago in the last quarterly Bloomberg Global Poll. Along with the slipping perceptions of the U.S. markets in the most recent survey, conducted Sept. 16-17, poll respondents say the Federal Reserve is likely to take further steps to try to bolster the economy.
In the September poll of 1,408 investors, analysts and traders who are Bloomberg subscribers, respondents rate the U.S. fourth for potential returns over the next year, behind Brazil and China, tied for first, and India, in third place.
The U.S. economic situation "is obviously unsustainable, and the concerted attempt to suspend disbelief is playing increasingly poorly abroad," says poll respondent Eric Kraus, chief strategist for Otkritie Brokerage House in Moscow. "One can delay, but no one can forestall the unwind of a multidecade credit bubble."
Economic reports released since the June poll show U.S. GDP growth slowed to 1.6 percent in the second quarter from 3.7 percent in the first quarter. In the final quarter of last year, GDP grew at a 5.0 percent annual rate.
Expectations for U.S. GDP growth next year have dropped to a median forecast of 2.5 percent in September from 2.9 percent in June, according to Bloomberg's monthly survey of economists.
S&P Rise
Since the June survey, U.S. stock markets have been on the rise. The Standard & Poor's 500 Index has risen 3.62 percent since the last investor poll was completed June 3. That's not as much as Brazil's Bovespa Index, which is up 10.56 percent and India's Bombay Stock Exchange Sensitive Index, which is up 10.44 percent. The U.S. stocks still did better than China's Shanghai Stock Exchange Composite Index, which has risen 1.41 percent since June 3.
"I think the U.S. will get back on track, but not in the next 6-12 months," says poll respondent Thomas Knudsen, a senior trader with OW Supply & Trading in Copenhagen.
Two-thirds of investors say they believe Federal Reserve policy makers, who meet today, will ease monetary policy through bond purchases by the end of the year. A similar 65 percent majority say the Fed bond purchases won't boost U.S. economic growth.
Overall, investors give the central bank favorable marks, with a 57 percent majority believing its monetary policy is "about right." More say it has been too aggressive, the view of 26 percent, than say it has been too timid, a view held by 14 percent.
Popular Bernanke
Fed Chairman Ben S. Bernanke is viewed favorably by 71 percent of respondents, up from 67 percent in June. He ranks highest in a list of eight global leaders and policy makers that includes President Barack Obama, Chancellor Angela Merkel of Germany and European Central Bank President Jean-Claude Trichet.
Only 1 out of 6 investors believes the U.S. economy is currently improving, though a 45 percent plurality considers the U.S. "stable." Another 37 percent believe the U.S. is deteriorating.
The poll also shows that confidence in the dollar has slipped since June, when 63 percent of investors believed the U.S. currency would rise against the euro during the following three months. Forecasts are now evenly divided: 34 percent now expect a stronger dollar in three months; 32 percent expect little change; and 30 percent a weaker dollar.
The Bloomberg Global Poll was conducted by Selzer & Co., of Des Moines, Iowa, and has a margin of error of plus or minus 2.6 percentage points.
Click here for the full report
September 10, 2010
Washington Post
By: Janine Zacharia
In an embarrassing and potentially dangerous foul-up, four Iraqi detainees with alleged links to the Sunni insurgent group al-Qaeda in Iraq escaped from U.S. custody at a Baghdad detention facility late Wednesday.
The escape was an example of the challenges the United States faces as it scales back its military force and redefines its mission in Iraq.
The identities of the four escapees and the guards who were overseeing their detention were not immediately known. The U.S. military released no details on how the four escaped.
Maj. Gen. Qassim Atta, an Iraqi military spokesman, told the Associated Press that the four were linked to al-Qaeda in Iraq and were facing the death penalty.
They were part of a group of about 200 detainees who were considered too dangerous to hand over to Iraqi control when the U.S. military transferred responsibility for the detention facility at Camp Cropper – renamed Karkh Prison – and its 1,500 detainees to the Iraqi government in July.
A week after the transfer, four prisoners with alleged links to al-Qaeda in Iraq escaped from the Iraqi side of the prison. The new Iraqi warden of the prison, who had been appointed at the urging of U.S. officials, vanished shortly after that earlier jailbreak.
Wednesday's escape follows President Obama's Aug. 31 announcement of the end of the U.S. combat mission in Iraq. The U.S. military has reduced its forces to 50,000 troops who remain largely in an advisory role.
The absence of the four prisoners was discovered Wednesday night after two other detainees were caught trying to escape.
U.S. and Iraqi forces and the Iraqi Justice Ministry "are working to apprehend these individuals," said Maj. Gen. Jerry Cannon, the deputy commanding general for detainee operations. "This event is under investigation."
Click here for the full report