February 15th, 2011
Chicago Tribune
By: Lindsey Tanner
Most medical devices recalled in recent years because of deaths or life-threatening problems were cleared for approval under less stringent regulations that don't require human testing, an analysis found.
The report comes as the Food and Drug Administration is reviewing sweeping proposals to revise the medical device approval process. The studied devices fell under rules for products similar to ones on the market, not regulations for brand new ones, which call for more extensive testing.
Thousands of deaths or serious medical problems occurred in patients with the recalled devices, which included external heart defibrillators, brain shunts and implanted pumps that deliver cancer drugs, the researchers said.
Device makers say the new data are flawed and conflict with previous reports.
For their analysis, the researchers looked at the FDA's list of high-risk devices that were recalled from 2005 through 2009.
Of the 113 highest-risk recalled devices, 71 percent, or 80 devices, had been approved through the less stringent regulation. Only 19 percent, or 21 devices, were approved under a stricter process for brand new products that involves inspections and human testing. Eight were registered with the FDA but exempt from regulation.
"Because so many medical devices are not being held to a higher safety standard, people are dying who wouldn't otherwise die and who don't have to die, and people are being harmed who don't have to be harmed," said study co-author Diana Zuckerman, president of the National Research Center for Women & Families, a Washington-based health advocacy group.
FDA spokeswoman Karen Riley said the study's findings aren't new and noted that the recalls it highlighted represent a small portion of the more than 19,000 devices cleared through the less strict standard during those years.
The report appears in Monday's Archives of Internal Medicine. An editorial says the analysis shows that "millions of Americans may be at risk for device-related injuries and recalls from high-risk devices that were cleared by FDA without any supporting clinical trial data."
"The public deserves better protection," the editorial said.
The researchers didn't include a tally of all deaths and injuries linked with the recalled devices. They noted that in 2006 alone, the FDA received reports of 2,830 potential device-related deaths and more than 100,000 injuries. More than half of the deaths were linked with devices approved under the less rigid process.
AdvaMed, a medical device makers trade group, said the analysis conflicts with other reports — including one with industry ties — showing devices cleared through that process have a good safety record.
Under the FDA's 510(k) process, new devices can be approved without human testing if they are similar to devices already on the market. A stricter category, the pre-market approval process, requires scientific evidence, typically extensive testing that is similar to what is required of new medicines.
The 510(k) process is "a short-cut backdoor approach" stemming from a 1976 law, when there weren't many implanted devices meant to sustain life, said study co-author Dr. Steven Nissen, chairman of cardiovascular medicine at the Cleveland Clinic.
He and Zuckerman are among FDA critics who've urged the agency to subject such devices to more rigorous testing, which device makers oppose.
The FDA has said it is awaiting input from the Institute of Medicine, an independent government advisory group, before making a final decision on revisions to the device approval process.
Click here for the full report from the Chicago Tribune
December 10th, 2010
MSNBC.com
By: Susan Heavey
The first new weight-loss pill in a decade moved closer to U.S. approval on Tuesday, when a panel of expert advisers backed Orexigen Therapeutics's Contrave despite heart risk concerns.
It was the third new weight-loss drug to come before U.S. regulators this year, the Food and Drug Administration having rejected two rival medicines in October.
Orexigen's stock more than doubled to $12.20 from Monday's close of $4.76 when it reopened in after-hours trade Tuesday. Shares of competitors Vivus Inc and Arena Pharmaceuticals Inc also rose, as investors bet Contrave's approval could revive their fortunes.
The advisers were not overly impressed with the modest weight loss seen in patients taking Contrave, but some said rejection could quash development of such drugs at a time when two out of three Americans are overweight or obese.
"My concern is … we will potentially kill development of these medications, and it is the most serious disease that the United States is facing," said panel chairman Abraham Thomas, head of endocrinology at Henry Ford Hospital in Detroit.
The outside experts voted 13-7 to back approval of Contrave but urged the FDA to require the company to conduct a larger clinical study to look at potential heart risks over time.
Contrave combines the alcohol and drug addiction drug naltrexone with the antidepressant bupropion in an attempt to boost metabolism while curbing appetite and cravings.
Study data showed a slight increase blood pressure and pulse rates for Contrave patients versus those given a placebo.
The pill met FDA effectiveness guidelines, in that at least 35 percent of patients studied lost at least 5 percent of their weight.
The FDA usually follows panel recommendations. A final ruling is due by January 31 but analysts said there could be a delay while post-marketing study details are agreed.
Analysts said the panel vote was particularly good news for Vivus, the FDA having already asked for more data on heart risks of its Qnexa.
"This is great news for Vivus," said Ira Loss, who follows the FDA for Washington Analysis Corp. "The panel recommended a post-approval study and that tells me that will be the case for Vivus as well.
Shares of Vivus rose 12 percent in extended trading to $8.75 and shares of Arena, whose drug was rejected over cancers seen in animal studies, rose 10 percent.
The shares of all three companies have been volatile in recent months as their fortunes have shifted and investors swapped allegiance with each advisory meeting and FDA action.
The fate of Contrave is key to California-based Orexigen, which focuses solely on obesity drugs and has no products on the market so far.
According to data from BioMedTracker, Contrave sales could reach $1.2 billion by 2018. That figure would make it the top player in a U.S. weight-loss drug market that sees just $382 million in sales annually, according to IMS Health.
Drugmakers seeking a pill to help people slim down have been thwarted for decades by serious side effects, and few options remain on the U.S. market.
Xenical from Roche Holding AG, approved in 1999, remains an approved prescription weight-loss drug. GlaxoSmithKline markets a lower-dose, over-the-counter version called Alli. Both can cause serious liver problems, uncontrolled bowel movements and gas.
Abbott Laboratories' Meridia, on the market since 1997, was removed in October over concerns about heart risks.
Some panelists who rejected the drug said they feared Contrave could echo Meridia's history, especially if long-term data is delayed.
"We need to make sure we get it right the first time," said panelist Sanjay Kaul, a cardiologist at Cedars Sinai Medical Center in Los Angeles who voted against approval.
The FDA and Orexigen are already in talks about another trial to look more closely at whether the heart changes seen signal potential for greater cardiovascular side effects.
Orexigen CEO Mike Narachi told reporters after the meeting that the company was not surprised by the issues raised Tuesday and would hold a conference call Wednesday afternoon to give more comments.
Orexigen, which has partnered with Takeda Pharmaceutical Co Ltd, had said the 25-year history of both ingredients in Contrave is an advantage because many safety issues are already known.
But many panelists had reservations about Contrave, including some who voted for approval.
Click here for the full report from MSNBC.com
October 18th, 2010
Reuters
By: Lewis Krauskopf and Ransdell Pierson
Allergan Inc's shares jumped more than 4 percent on Monday after the company won U.S. approval to market its blockbuster anti-wrinkle Botox injection as a treatment for chronic migraine headaches.
Its shares rose $3.00, or 4.3 percent, to $71.88 in morning trading. The U.S. Food and Drug Administration approved the potentially lucrative new use for Botox, Allergan's flagship product, late on Friday.
Allergan shares had risen in August when the company released information that indicated approval of Botox for chronic migraine headaches use seemed near.
"Friday's approval of the chronic migraine indication for Botox will, we expect, prove to be a watershed in Allergan's revenue and earnings growth over the next several years," William Blair analyst Ben Andrew said in a research note.
Botox injections would be given around the head and neck every 12 weeks in an attempt to dull future migraines. Chronic migraine sufferers have headaches most days of the month. The drug has not been shown to work for people who have headaches 14 days or fewer per month.
Botox, with current annual sales of $1.4 billion, could eventually capture $600 million or more in additional annual sales from the migraine indication, according to analysts.
The product, which is injected and blocks nerve signals, is also being studied as a treatment for overactive bladder.
Botox is by far the world's biggest anti-wrinkle treatment. Allergan also has a dominant position with many of its other prescription drugs and medical devices.
It has more than 50 percent of the global market for breast implants, and its Juvederm is the leading dermal filler, used to smooth facial wrinkles. Allergan's Lap-Band, used in weight- loss procedures, commands two-thirds of the $300 million to $400 million gastric band market.
Moreover, Allergan has the industry's fastest-growing array of prescription eye medicines.
The company's leadership position in so many therapeutic areas has made it a darling of Wall Street, even though U.S. regulators have called Allergan to account for marketing Botox for unapproved non-cosmetic uses in recent years.
Allergan last month agreed to plead guilty and pay $600 million to resolve a federal probe of the practices.
The Justice Department accused Allergan of paying kickbacks to doctors to prescribe Botox for unapproved uses — such as treating headaches, pain and juvenile cerebral palsy — and teaching doctors how to bill for such "off-label" uses.
Allergan's shares have risen 23.2 percent in the past year, fueled largely by excitement about the ever-improving sales prospects for Botox, That compares with a 7.2 percent gain for the Arca Pharmaceutical Index .DRG of large U.S. and European drugmakers.
Click here for the full report from Reuters
September 9, 2010
Rasmussen Reports
The Rasmussen Reports daily Presidential Tracking Poll for Thursday shows that 23% of the nation's voters Strongly Approve of the way that Barack Obama is performing his role as president. Forty-seven percent (47%) Strongly Disapprove, giving Obama a Presidential Approval Index rating of -24 (see trends).
The Presidential Approval Index is calculated by subtracting the number who Strongly Disapprove from the number who Strongly Approve. It is updated daily at 9:30 a.m. Eastern (sign up for free daily e-mail update). Updates are also available on Twitter and Facebook.
Overall, 41% of voters say they at least somewhat approve of the president's performance. Fifty-eight percent (58%) disapprove.
Today's Approval Index rating is the lowest yet recorded for this president. Overall Job Approval matches the lowest recorded number, and the number who Strongly Disapprove matches the highest yet recorded.
President Obama continues to earn Approval from 74% of Democrats. However, 88% of Republicans disapprove. So do 63% of those not affilated with either major political party. Platinum Members can see additional demographic breakdowns and additional measures of the president's performance on the Rasmussen Reports By the Numbers page.
Five days from now, Harper Collins will release a new book by Scott Rasmussen and Doug Schoen addressing the broad discontent roiling the political landscape this year. MAD AS HELL: How the Tea Party Movement is Fundamentally Remaking Our Two-Party System can be pre-ordered at Amazon.com, Barnes and Noble, Borders, and other outlets.
Sixty-two percent (62%) believe that no matter how bad things are, Congress can always make it worse.
The Rasmussen Reports Election 2010 Balance of Power shows Democrats with a 48-45 advantage while seven races remain Toss-Ups (California, Colorado, Illinois, Nevada, Ohio Washington, and Wisconsin). Republicans hold a twelve-point advantage on the Generic Congressional Ballot.
The Rasmussen Reports Gubernatorial Scorecard projects 26 Governorships for the GOP, 16 for the Democrats, and eight Toss-Ups (California, Florida, Illinois, Maryland, New Mexico, Oregon, Vermont, and Wisconsin). Later today, new numbers will be released on the Arizona Governor's race.
Just 29% believe the nation is generally heading in the right direction. Most say Congress should wait until after Election Day–and after the lame duck session–to consider major legislation.
The number of Republicans in the nation grew by two percentage points over the past month while the number of Democrats slipped a bit. As a result, the GOP has closed the partisan gap to the smallest margin in five years.
A Wall Street Journal profile calls Scott Rasmussen "America's Insurgent Pollster."
In a book released earlier this year, Scott observed that, "The gap between Americans who want to govern themselves and politicians who want to rule over them may be as big today as the gap between the colonies and England during the 18th century." In Search of Self-Governance is available at Rasmussen Reports and Amazon.com.
The Rasmussen Reports Media Meter shows that media coverage of President Obama has been 50% positive over the past week. Platinum Members can review coverage of the president by individual major media outlets.
If you'd like Scott to speak at your conference or event, contact Premiere Speakers Bureau.
Scott has published several recent Wall Street Journal columns including "Why Obama Can't Move the Health Care Numbers" and how Obama won the White House by campaigning like Ronald Reagan. He has also written an overview of the health care reform debate, a look at how President Obama is losing independent voters, and was the first to note the decline in the president's approval ratings.
You can also learn about Scott's favorite place on earth and his time working with hockey legend Gordie Howe.
It is important to remember that the Rasmussen Reports job approval ratings are based upon a sample of likely voters. Some other firms base their approval ratings on samples of all adults. President Obama's numbers are always several points higher in a poll of adults rather than likely voters. That's because some of the president's most enthusiastic supporters, such as young adults, are less likely to turn out to vote. It is also important to check the details of question wording when comparing approval ratings from different firms.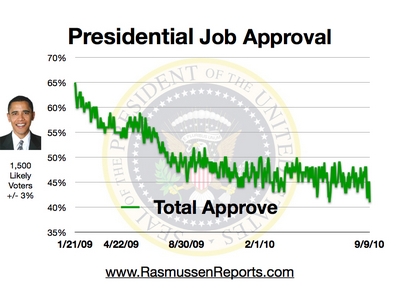 Rasmussen Reports has been a pioneer in the use of automated telephone polling techniques, but many other firms still utilize their own operator-assisted technology (see methodology). Pollsters for Presidents Jimmy Carter and Bill Clinton have cited our "unchallenged record for both integrity and accuracy."
The Pew Center noted that Rasmussen Reports beat traditional media in covering Scott Brown's upset win in Massachusetts earlier this year: "It was polling-not journalistic reporting-that caught the wave in the race to succeed Massachusetts Senator Edward M. Kennedy." Rasmussen Reports was also the first to show Joe Sestak catching Arlen Specter in the Pennsylvania Democratic Primary race this year.
In the 2009 New Jersey Governor's race, automated polls tended to be more accurate than operator-assisted polling techniques. On reviewing the state polling results from 2009, Mickey Kaus offered this assessment, "If you have a choice between Rasmussen and, say, the prestigious N.Y. Times, go with Rasmussen!"
In 2008, Obama won 53%-46% and our final poll showed Obama winning 52% to 46%. While we were pleased with the final result, Rasmussen Reports was especially pleased with the stability of our results. On every single day for the last six weeks of the campaign, our daily tracking showed Obama with a stable and solid lead attracting more than 50% of the vote.
We also have provided a summary of our 2008 state-by-state presidential results for your review.
In 2004 George W. Bush received 50.7% of the vote while John Kerry earned 48.3%. Rasmussen Reports polling projected that Bush would win 50.2% to 48.5%. We were the only firm to project both candidates' totals within half a percentage point by (see our 2004 results).
See also our 2008 state results for Senate and governor.
See 2006 results for Senate and Governor.
Daily tracking results are collected via telephone surveys of 500 likely voters per night and reported on a three-day rolling average basis. The margin of sampling error-for the full sample of 1,500 Likely Voters–is +/- 3 percentage points with a 95% level of confidence. Results are also compiled on a full-week basis and crosstabs for full-week results are available for Platinum Members.
Like all polling firms, Rasmussen Reports weights its data to reflect the population at large (see methodology). Among other targets, Rasmussen Reports weights data by political party affiliation using a dynamic weighting process. While partisan affiliation is generally quite stable over time, there are a fair number of people who waver between allegiance to a particular party or independent status. Since the November 2008 election, the number of Democrats in the country has declined while the number of unaffiliated voters has grown.
Our baseline targets are established based upon separate survey interviews with a sample of adults nationwide completed during the preceding three months (a total of 45,000 interviews) and targets are updated monthly. Currently, the baseline targets for the adult population are 35.3% Democrats, 32.9% Republicans, and 31.8% unaffiliated. Likely voter samples typically show a slightly smaller advantage for the Democrats.
Click here to read the full report
August 27th, 2010
Natural News
By: Mike Adams
Although it's still summer in North America, it is of course winter in Australia, and the flu season is well under way there. As usual, Australian health authorities have been urging parents there to vaccinate their children against the flu, propagating the mythology that flu vaccines are both safe and effective. But this time around, many Australian parents found out the hard way that they were being lied to.
It didn't take long to realize the truth after their children start going into convulsions following the flu vaccine injections. Other children began vomiting or exhibiting dangerously high levels of fever. One child has gone into a coma and may never recover.
As reported in WA Today (http://www.watoday.com.au/wa-news/f…)
"Perth mother of two Bea Flint said her 11-month-old boy Avery had a seizure after receiving the first dose of the two-dose flu vaccination on Saturday. Mrs Flint said that after the 9am vaccination she noticed Avery had a minor temperature about 2pm. At 7.45pm, Avery started whimpering and moaning. When Mrs Flint got to his cot the baby had vomited and was lying on his side having a seizure. 'He couldn't cry – his head was hanging down in the car seat and he couldn't move. I was petrified – it was one of the worst experiences of my life."
The story goes on to say, "The doctor who treated Avery told Mrs Flint her baby was the fifth child with similar symptoms admitted to the hospital that day."
In other words, this was no rare event. Vaccinated children suffering severe convulsions were piling up in hospital emergency rooms across the country.
The real kicker, though, is that children started having convulsions two weeks ago but Australian health authorities ignored them, insisting that the vaccine was safe and causing it to be injected in yet more babies. Two weeks later, with dozens more children experiencing convulsions (and who knows how many thousands actually being harmed in less obvious ways), Commonwealth chief health officer Professor Jim Bishop finally announced the vaccination ban.
Remember: Health authorities in Australia, UK, the United States and everywhere else have relentlessly insisted that flu vaccines are perfectly safe and can't possibly harm anyone. In the U.S., the FDA has given its approval to the very same flu vaccine that's harming children in Australia, and the CDC has insisted that all children in the USA — regardless of age — should now be injected with this very same flu vaccine.
So now we've got a vaccine that Australia has banned by the USA somehow says is safe enough to inject into a six-month-old infant. How many convulsing babies will it take in the U.S. before American parents realize the truth about flu vaccines?
Chemically induced convulsions
As you're reading this, you may find yourself wonder, "Well, what could cause such convulsions in children?"
The answer is more terrifying than you might think, because it's not "weakened flu viruses" that vaccine manufacturer claim they put into the vaccines. A weakened flu virus doesn't send children into convulsions. Only a chemical can do that.
The chemical in question is one that's routinely added to most vaccines as a way to aggravate the immune system to respond to the presence of the weakened virus. It's called an "adjuvant" and consists of a highly inflammatory chemical that we now know may damage brain tissues and the nervous system. It is this adjuvant that most likely caused the convulsions in children.
Even in children who don't experience convulsions, there is speculation that this adjuvant may lead to future Alzheimer's disease or other neurological disorders. Vaccine manufacturers always attempt to downplay their use of adjuvant chemicals, and few media outlets focus on this important point, but it is the adjuvant that is most likely responsible for sending these Australian children into hospitals with convulsions.
Health authorities defend dangerous vaccine
One thing I've noticed about vaccine pushers is that they behave like irrational zealots. No matter how much evidence surfaces about the dangers of vaccines, they continue to mindlessly push them while ignoring the evidence.
A pediatric professor in Australia, Dr Peter Richmond, admitted that researchers were trying to figure out if the entire vaccine was dangerous, or if there was just a bad batch. But even before getting the answer to this question, he goes on to say that everybody over the age of five should go ahead and get injected with this same vaccine! (http://www.watoday.com.au/wa-news/f…)
In other words, he's so convinced the vaccine is safe — even after dozens of children were obviously harmed by it — that he's still pushing the same dangerous vaccine onto everybody else!
This is precisely the kind of attitude reflected across the vaccine industry. Reports of children being harmed, or paralyzed, or hospitalized by vaccines are always written off as "coincidence." The mounting evidence is simply thrown out the window because it conflicts with the pro-vaccine agenda.
Can you imagine the outrage if an herbal product sent fifty kids to the hospital suffering from convulsions? Health authorities across the world would be quick to condemn the product, and they'd confiscate it right off the shelves while shutting down the operations of its manufacturer. But somehow when a vaccine does the same thing, these same health authorities urge people to keep on injecting their children with it!
It makes no sense. But then again, the vaccine industry was never based on rational thinking in the first place. If health authorities were truly rational, they'd be handing out vitamin D supplements to children instead of injecting them with vaccines, because vitamin D has been scientifically proven to provide better protection against the flu than vaccines. (http://www.naturalnews.com/029333_v…)
Of course, to ask health authorities to make rational decisions is sort of like asking politicians to start telling the truth. In the complicated world of profits and politics, rational, honest thinking just doesn't get any traction. It's far more profitable to keep lying to the world and raking in billions of dollars each year off dangerous vaccines, even as they continue to harm innocent children.
I often wonder… How many dead children will it take before parents wake up and realize that flu vaccines are dangerous? The answer may surprise you: Even a million dead children won't change the minds of most parents because they just do whatever they're told by health authorities, even if it makes no rational sense.
Most parents are so brainwashed by the medical system that they would gladly line up to have their babies injected with chemotherapy if they were told it was somehow necessary.
At some point, the parents whose babies are being harmed or potentially even killed by these vaccines can only blame themselves. They were the ones who brought their babies to be injected with a chemical adjuvant and viral fragments, and they should know better than to trust the government when it comes to health advice. The government, after all, still says that pharmaceutical chemicals are good for you while vitamins, herbs and natural remedies are dangerous. And it's the government that approved the very vaccines that are right now sending these children to the hospital.
Any parent that trusts the government with the health of their child is setting themselves up for catastrophe. And that catastrophe could very well cost them the life of their child.
Click Here For The Complete Article
June 3, 2010
Gallup
By Frank Newport
PRINCETON, NJ — At 46%, President Obama's job approval average for the week ending May 30 is the lowest weekly average of his administration, one point below the previous low of 47% measured in April.
Overall, Obama's weekly job approval average has generally been quite stable in 2010 so far, and has been at or below 50% since mid-February. It fell out of the 60% range in early summer 2009 and first fell below 50% in late November.
Click here for the full report.
May 24, 2010
RasmussenReports.com
The Rasmussen Reports daily Presidential Tracking Poll for Monday shows that 25% of the nation's voters Strongly Approve of the way that Barack Obama is performing his role as president. Forty-three percent (43%) Strongly Disapprove, giving Obama a Presidential Approval Index rating of -18 (see trends).
Following passage of health care, enthusiasm for the president among Democrats soared. Today, however, just 49% of Democrats Strongly Approve of Obama's performance. That's down from a high of 65%. It remains to be seen whether this is a temporary aberration or the beginning of a lasting change.
Sixty-three percent (63%) of voters nationwide favor repeal of the health care law. That's the highest level of support for repeal yet measured.
The Presidential Approval Index is calculated by subtracting the number who Strongly Disapprove from the number who Strongly Approve. It is updated daily at 9:30 a.m. Eastern (sign up for free daily e-mail update). Updates are also available on Twitter and Facebook.
Overall, 44% of voters say they at least somewhat approve of the president's performance. Fifty-four percent (55%) disapprove. The Rasmussen Reports Media Meter shows that media coverage of the President has been 51% positive over the past week.
Just 27% are even somewhat confident that Congress knows what it's doing when addressing that nation's economic challenges. That figure includes only 6% who are Very Confident that Congress knows what it's doing.
Click here to continue reading the full report
December 1, 2009
Daily Mail
by Fiona Macrea
Prince Charles has clashed with the medical establishment by calling for alternative medicine to be given the official seal of approval.
The Prince, a long-standing supporter of complementary therapies, wants herbalists and acupuncturists to be formally regulated like physiotherapists and osteopaths.
His Foundation for Integrated Health says a system of registration will protect livelihoods under threat from new EU rules on the therapies.
But the Royal College of Physicians says it would confer an air of 'respectability' on a branch of medicine that is not proven to work.
The row centres on an EU directive that will from next year ban herbalists, including practitioners of Chinese medicine, from prescribing many treatments unless the law recognises them as health professionals.
The Foundation, which was set up by the Prince of Wales in 1993, says the solution is a system of registration, that would put herbalists on equal footing to physiotherapists and osteopaths. Acupuncturists would also be registered.
A spokesman for the charity said that without the scheme the therapies could be driven underground, and lives put at risk.
He added: 'The Government is under pressure from a small but vociferous group of scientists who claim that regulation is about recognising professional status rather than protecting the public.
'That is absolutely wrong. If Government caves in to their demands, public health will be put at risk.
'Millions of us use herbal medicine – around a quarter of the population have done so at some time in their lives and about one in twelve have consulted a herbalist.
'The Prince's Foundation for Integrated Health fears that many will be unwilling to give up the remedies they believe help them, and instead resort to unregulated internet retailers or bogus practitioners.
'There have been cases where the products they use have been found to be adulterated with unsafe, illegal pharmaceuticals – and to contain lead, mercury or arsenic.'
Dr Michael Dixon, the charity's medical director, said: 'No one deserves to die for no better reason than preferring herbal remedies to conventional medicine.'
A spokesman for the Prince said he had recently met Health Secretary Andy Burnham.
He added that one of the Foundation's main objectives was to 'safeguard the millions of people who regularly use herbal medicine.'
But the Royal College of Physicians is against statutory regulation on the grounds that it would make such treatments appear 'credible'.
September 16, 2009
Natural News
By Mike Adams
The FDA has now suddenly granted approval to four different H1N1 vaccines, all on the same day! With virtually no testing, these fast-tracked vaccines are now approved for use on everyone: Infants, children, adults, senior citizens and even expectant mothers. But does everyone really need these vaccines?
According to the CDC, by June of 2009, one million Americans had already been exposed to H1N1 swine flu. Although the CDC hasn't released official infection statistics in recent months, with the rapid spread of the mild virus, it's not unreasonable to suspect that by now, three months later, the number of Americans who have been exposed to H1N1 swine flu has at least doubled to two million.
Yet here's the interesting part: You don't see two million Americans dying from swine flu.
That's because many of those who were infected by swine flu never had any idea they were infected at all. They were so-called "symptomless carriers," because they never experienced a sniffle or other flu-like symptoms. Their immune systems conquered swine flu automatically and effectively, creating antibodies and overcoming the infection by relying on fundamental human physiology.
Even for those who got sick, virtually everyone survived the sickness. After a few days of extra rest in bed (and hopefully some nutritional supplementation), they were able to kick the virus and return to normal life. This is all a normal part of beating any flu.
All these millions of people who were infected by H1N1 and didn't die have naturally made their own swine flu antibodies. They are now immune to the swine flu, and they now have zero risk of being infected or killed by this H1N1 swine flu in the future.
At the same time, the CDC has no idea how many Americans already have H1N1 antibodies from surviving a swine flu infection. The WHO has no idea of this worldwide figure, either. It is likely in the tens of millions of people around the world.
So here's the relevant question: What happens when you give an H1N1 vaccine to a person who already has H1N1 antibodies?
All of the risk, none of the benefit
The answer is that injecting such a person with an H1N1 vaccine exposes them to all the risks of a vaccine with none of the purported benefits. In other words, such a vaccine cannot help them in any way because they're already immune to H1N1!
The vaccine can only harm them or have no effect.
Given that there is zero reward but some measurable risk for these people taking the vaccine, it only makes sense that people who have existing H1N1 antibodies should never be given an H1N1 vaccine shot.
To determine this, however, each person about to receive a vaccine shot would have to be tested to see if they already have H1N1 influenza antibodies. But to conduct that test for the entire U.S. population would take years to complete. (The CDC testing labs are already overrun and can't handle millions of tests in a timely manner…)
Thus, there is currently no effort to test anyone for H1N1 antibodies before injecting them with the H1N1 vaccine… a vaccine that may have been rendered utterly useless to that person even before the shot!

No medical justification, just FEAR marketing
Millions of people around the world, you see, have already survived H1N1 swine flu. For those individuals, there is absolutely no medical justification for being vaccinated. The only justification for a vaccine is economic — to sell another vaccine to someone who doesn't need it.
This is, of course, the predominant business model of the pharmaceutical industry: Sell monopoly-priced drugs to people who, for the most part, don't really need them. That's how psychiatric drugs are pushed these days, and much the same is true for cholesterol drugs, blood pressure drugs and of course vaccines.
With the swine flu, neither the pharmaceutical industry nor the mainstream media has bothered to address this important question of injecting people who are already antibody positive. It's not only a question of the additional health risk to the recipient of the injection; it's also a question of the efficient use of vaccines when the available supply is limited. For every person who is injected but didn't need the vaccine, there's another person out there who won't get the vaccine (from the point of view of western medicine, of course, which wants everyone to be vaccinated).
You are your own vaccine!
But there's a bigger point in all this. If millions of people have already been infected with H1N1 swine flu and virtually none of them died, it's a powerful demonstration of the awesome defensive capabilities of the human immune system and the human body's ability to make your own vaccine.
As a human being with a functioning immune system, you are a walking vaccine factory. Simply by exposing your body to an invading virus, your immune system gets to work, manufacturing its own "vaccine" and building its own antibodies to make you immune to any further infections from that virus. That's why you only get the chicken pox once. It's why one winter's flu doesn't strike you every winter. It's the reason you are still alive today, and it doesn't require needles, or chemical preservatives, or adjuvants or a trip to the local medical clinic.
And if your human body already has this miraculous nanotechnology known as the immune system, why do you need a vaccine for the ridiculously mild H1N1 swine flu in the first place?
Sure, if H1N1 had a kill rate of five percent, that would be a different story. But we're talking about a flu that's so mild, a single death from it results in national headline news. "Cornell student dies from swine flu…"
As I explained in a related article here on NaturalNews, you are 40 times more likely to be struck by lightning than to have your life saved by the swine flu vaccine.
And that's if you've never been infected by swine flu in the first place. If you've already been infected and you're still alive, your odds of being saved by a swine flu vaccine injection are precisely zero.
Would you buy a lotto ticket if there were zero chance of winning something? Most people wouldn't, and yet many of those very same people are lining up to get ready for a swine flu vaccine lottery that may offer them exactly the same empty odds of success.
That, of course, is why the swine flu vaccine isn't being marketed using statistics, mathematics or reasoned logic. It's being pushed through one mechanism: Fear. Because as the drug companies have long since learned, fear always overcomes reason when it comes to pimping vaccines. And even mathematicians and scientists will line up to get injected with a vaccine they don't even need if they can be properly motivated to discard reason and abandon statistical reality.