September 28th, 2011
The Huffington Post
By: Jon Ward
New Jersey Gov. Chris Christie all but announced himself as the next coming of Ronald Reagan and cast President Obama as Jimmy Carter in a speech Tuesday night that will only inflame speculation that the Republican plans to run for president.
Christie's long-planned speech at the Ronald Reagan Presidential Library in California in many ways seemed like an audition for a potential candidacy, even though he told a group of donors before the speech that he still does not plan to run.
Asked directly during a question and answer period whether he is reconsidering his past refusals to run, Christie gave a less than convincing denial. He pointed to a video of past statements where he has said he will not run: "Those are the answers," he said.
Minutes later, a woman in the audience rose and gave an impassioned plea for Christie to run: "I really implore you, I really do. This isn't funny. I mean this will all my heart … I really implore you, as a citizen of this country, to please sir, reconsider … We need you. Your country needs you to run for president."
Christie thanked her: "I hear exactly what you're saying and I feel the passion with which you say it and it touches me."
"But by the same token, that heartfelt message you gave me is also not a reason for me to do it. That reason also has to reside within me," he said. But unlike in the past, Christie did not say he feels in his heart that he is not ready and does not want to run.
"I'm listening to every word of it and feeling it too," he told the woman.
In his speech, Christie didn't just voice obligatory Republican criticisms of Obama. He contrasted himself directly with the incumbent Democrat currently inhabiting the White House, suggesting that his own record as governor has shown him to be more prepared than Obama to carry the mantle of national and international leadership.
As governor, Christie said, he "has not sat by and waited for others to go first to suggest solutions." But Obama, he said, "once talked about the courage of his convictions, but still has not found the courage to lead."
"We continue to wait and hope that our president will finally stop being a bystander in the Oval Office. We hope that he will shake off the paralysis that has made it impossible for him to take on the really big things that are obvious to all Americans and to a watching and anxious world community," Christie said.
He castigated Obama's dismissal of a bipartisan deficit commission that "the president asked for himself," and through repetition branded the president a failure. He blamed him for "failure to act on the country's crushing unemployment…the failure to act on ever expanding and rapidly eroding entitlement programs…the failure to discern pork barrel spending from real infrastructure investment."
Christie then summed up his own approach to governance: "When there is a problem, you fix it."
He included a nod to the Democratic leaders in the New Jersey state legislature — Senate President Stephen Sweeney and House Speaker Sheila Oliver — describing them as " two people who have more often put the interests of our state above the partisan politics of their caucuses."
"And that's why I call them my friends," he said.
"In New Jersey over the last 20 months, you have actually seen divided government that is working. To be clear, it does not mean that we have no argument or acrimony. I think you all have seen my YouTube videos. There are serious disagreements, sometimes expressed loudly, you know, Jersey style," Christie joked.
The speech came at the end of a day when speculation about Christie's political ambitions had reached a new high, fueled by dissatisfaction among Republican activists with the current presidential field and by slyly placed non-denials and encouragement from unnamed Christie advisers in the press. At one point Tuesday afternoon, Fox News even reported that Christie had officially decided to rule out a run, only to have anonymous Christie advisers tell ABC News that the suggestion was incorrect.
Close Christie confidantes have told The Huffington Post that Christie is not running at present, but has not ruled out the possibility of a run.
It is Christie's blunt manner and his ability to notch several accomplishments in just two years as governor, that has made him a hero to many Republicans. Christie did not fail to mention his wins: two balanced budgets in which he closed $13 billion in deficits without raising taxes, hard fought changes to New Jersey's pension and health benefits system for state employees, and a cap on annual property tax increases.
He linked all of this to foreign relations and diplomacy through Reagan, the nation's 40th president and a conservative icon. Christie used the example of Reagan's decision to fire striking air traffic controllers in 1981 and said that showed to the nation and to foreign adversaries that Reagan was " a man who said what he meant and meant what he said."
Christie also ventured to stake out a general position on the U.S. wars in Afghanistan and Iraq, aligning with a more reductionist view of the U.S. role in the world.
"The United States must also become more discriminating in what we try to accomplish abroad," he said. "We certainly cannot force others to adopt our principles through coercion. Local realities count; we cannot have forced makeovers of other societies in our image. We need to limit ourselves overseas to what is in our national interest."
Christie ended with another shot at the president, saying Obama spoke in 2004 of unity, but in 2012 is preparing "to divide our nation to achieve re-election. This is not a leadership style, this is a re-election strategy."
And he suggested that the nation needs a leader willing to talk tough with Americans about meeting current challenges, someone like himself: "The biggest challenge we must meet is the one we present to ourselves."
Click here for the full report from The Huffington Post
February 25th, 2011
AOL News
By: Lee Spiegel
Whether you believe or disbelieve the notion that UFOs are visitors from another planet, a former highly decorated military officer now comes forward with information that may infuriate those on both sides in the ongoing ET debate.
Retired Col. John Alexander, using his military savvy and high security clearance, spent a quarter of a century going through the top levels of the U.S. government and military searching for the group of people who were allegedly responsible for UFO information and the supposedly decades-old UFO cover-up.
His conclusions: Not only is there no such group and no cover-up, but disclosure about UFOs has already occurred on different official levels.
With so many people crying out these days for the U.S. government or the United Nations or even the Vatican to issue some sort of "we are not alone in the universe" disclosure statement, Alexander says the information has been dripping out all around us, over decades, with top officials casually making statements about UFOs.
He references this 1950 remark made by President Harry Truman: "I can assure you the flying saucers, given that they exist, are not constructed by any power on Earth."
"Disclosure has happened," Alexander added. "It starts with former presidents Truman, Carter, Reagan and [the Soviet Union's] Gorbachev. I've got stacks of generals, including Soviet generals, who've come out and said UFOs are real. My point is, how many times do senior officials need to come forward and say this is real?" Alexander told AOL News.
"At one time, before a lot of this information was released, I could see both the classified and the unclassified material. And I will tell you that 98 percent of the information was already in the public domain. The only things that weren't there was stuff like sources and method, which is protected, but the information about the incident was already out there."
Several months ago, a group of ex-military officers came forward to discuss their experiences when UFOs reportedly tampered with American nuclear missile sites. While Alexander acknowledges the events, he suggests why there was no intense intelligence investigation of these incidents.
"They absolutely happened, but when it's a one-time event, the attitude of investigators is: If it happens again, we'll get nervous, but since it didn't happen, put it aside.
"It's sort of an indictment that says, despite overwhelming evidence of interaction with strategic systems, nothing was done. And in my view, it is put, like a number of things, in the too-tough-to-handle bin."
The 74-year-old former Green Beret A-Team commander and developer of weapons at Los Alamos, N.M., is one of many speakers presenting his views at this week's International UFO Congress in Scottsdale, Ariz. He takes issue with both true believers (who assume any strange light in the sky is from another planet) and hard-nosed skeptics (who debunk any and all UFO reports and evidence to the contrary).
In his new book, "UFOs: Myths, Conspiracies and Realities" (Thomas Dunne Books), Alexander jumps right to the chase, saying, "UFOs are real! With no prevarication or qualification of terms, there are physical objects of unknown origin that do transit our universe. The evidence that supports those statements is simply overwhelming."
The evidence he speaks of includes the hard data of sensor technology that has frequently confirmed the reality of physical craft and the high quality of extremely reliable eyewitnesses who are "neither misreporting facts nor delusional."
After spending decades deeply embroiled behind the scenes, Alexander's assertion of the reality of UFOs still leaves the bigger question: What's the origin and purpose of these unexplained machines? (If, in fact, they are machines in the sense that we use that term.)
"The problem is, when you discuss UFOs, we are talking everything from little balls of light to hard craft a mile or more across, and everything in between. So what is it?" Alexander asked.
"I argue that, not only are we not solving the problems yet, we're not even asking the right questions, because we approach this wrong.
"I suspect that consciousness is a piece of the puzzle. We talk about UFOs, saying it's a technology that's 1,000 years in advance, but it really isn't. If you follow the history of these things, usually it is somewhat in advance, but not beyond our comprehension by any stretch of the imagination.
"The conundrum you get into is, yes, they are seen by sensors; however, at other times, they are not seen by sensors that should've seen them, and that's one I can't answer."
Alexander is a frequent guest on "Coast to Coast AM With George Noory," the popular overnight radio program. George Knapp, a multiple Emmy Award-winning investigative reporter and a weekend "Coast to Coast" host, praises Alexander's stance and suggests his book "will almost certainly infuriate zealots on both ends of the UFO spectrum."
Click here for the full report from AOL News
September 20, 2010
BreitBart
By Greg Bluestien
Former President Jimmy Carter said Monday he sees parallels between today's tea party and his own campaign for the White House in 1976. But he doesn't think the movement will be much of a factor beyond this fall's elections.
The Georgia Democrat told The Associated Press he rode a wave of voter discontent to the presidency on the heels of the Vietnam War and the Watergate scandal that felled President Richard Nixon, much like tea partyconservatives are now earning support by voicing anger at the nation's economic woes.
"I was a candidate that was in some ways like the tea party candidate," Carter said in an interview. "I was a complete outsider. I capitalized legitimately on the dissatisfaction that was permeating our society."
He said the tea party's momentum will likely wear off and they will be co-opted by the Republican Party.
"I think they're going to be quite a major factor in November," he said. "I think there's already a process of absorbing them into the Republican Party. I think they will be much less of a factor in 2012 and in future years."
The comments came the same day the former president's new book, "White House Diary," was released.
In the book, Carter said he pursued an overly aggressive agenda as president that may have confused voters and alienated lawmakers. But he said the tipping points that cost him the 1980 election were the Iran hostage crisis and the primary challenge by U.S. Sen. Ted Kennedy.
"Had we not had the hostage crisis, I would have won," he said in the interview of his defeat to Republican Ronald Reagan, adding: "Had I not had Kennedy as my opponent, who sapped away a portion of the Democratic wing, I would have been re-elected."
Carter said in the book that he is proud of his accomplishments during his presidency, but that pushing controversial decisions such as the end of U.S. control of the Panama Canal and working to normalize relations with Communist China cost him political support.
"I overburdened Congress with an array of controversial and politically costly requests. Looking back, I am struck by how many unpopular objectives we pursued," he said, adding: "We were able to achieve a remarkable amount of what we set out to do, but ultimately the political cost—of my administration and for members of Congress—was very high."
Carter, 85, compiled the book from thoughts and observations he dictated several times a day in tapes turned over to his secretary. Thirty years later, he condensed and annotated the diary with recent reflections. The book was published by Farrar, Straus and Giroux.
The former president said in the interview that he neglected his role as the party's leader, opening a vacuum that cost some of his chief legislative supporters their jobs. He said there were 20 senators up for re-election in 1978 who voted for the Panama treaty—and only seven came back to the Senate the next year.
"One of the things I could have done better is I could have been a better leader of the Democratic Party. I didn't feel comfortable," he said.
Carter said he decided to publish the diary because it "may be my last chance to offer an assessment of my time in the White House," he wrote.
September 9, 2010
Rasmussen Reports
The Rasmussen Reports daily Presidential Tracking Poll for Thursday shows that 23% of the nation's voters Strongly Approve of the way that Barack Obama is performing his role as president. Forty-seven percent (47%) Strongly Disapprove, giving Obama a Presidential Approval Index rating of -24 (see trends).
The Presidential Approval Index is calculated by subtracting the number who Strongly Disapprove from the number who Strongly Approve. It is updated daily at 9:30 a.m. Eastern (sign up for free daily e-mail update). Updates are also available on Twitter and Facebook.
Overall, 41% of voters say they at least somewhat approve of the president's performance. Fifty-eight percent (58%) disapprove.
Today's Approval Index rating is the lowest yet recorded for this president. Overall Job Approval matches the lowest recorded number, and the number who Strongly Disapprove matches the highest yet recorded.
President Obama continues to earn Approval from 74% of Democrats. However, 88% of Republicans disapprove. So do 63% of those not affilated with either major political party. Platinum Members can see additional demographic breakdowns and additional measures of the president's performance on the Rasmussen Reports By the Numbers page.
Five days from now, Harper Collins will release a new book by Scott Rasmussen and Doug Schoen addressing the broad discontent roiling the political landscape this year. MAD AS HELL: How the Tea Party Movement is Fundamentally Remaking Our Two-Party System can be pre-ordered at Amazon.com, Barnes and Noble, Borders, and other outlets.
Sixty-two percent (62%) believe that no matter how bad things are, Congress can always make it worse.
The Rasmussen Reports Election 2010 Balance of Power shows Democrats with a 48-45 advantage while seven races remain Toss-Ups (California, Colorado, Illinois, Nevada, Ohio Washington, and Wisconsin). Republicans hold a twelve-point advantage on the Generic Congressional Ballot.
The Rasmussen Reports Gubernatorial Scorecard projects 26 Governorships for the GOP, 16 for the Democrats, and eight Toss-Ups (California, Florida, Illinois, Maryland, New Mexico, Oregon, Vermont, and Wisconsin). Later today, new numbers will be released on the Arizona Governor's race.
Just 29% believe the nation is generally heading in the right direction. Most say Congress should wait until after Election Day–and after the lame duck session–to consider major legislation.
The number of Republicans in the nation grew by two percentage points over the past month while the number of Democrats slipped a bit. As a result, the GOP has closed the partisan gap to the smallest margin in five years.
A Wall Street Journal profile calls Scott Rasmussen "America's Insurgent Pollster."
In a book released earlier this year, Scott observed that, "The gap between Americans who want to govern themselves and politicians who want to rule over them may be as big today as the gap between the colonies and England during the 18th century." In Search of Self-Governance is available at Rasmussen Reports and Amazon.com.
The Rasmussen Reports Media Meter shows that media coverage of President Obama has been 50% positive over the past week. Platinum Members can review coverage of the president by individual major media outlets.
If you'd like Scott to speak at your conference or event, contact Premiere Speakers Bureau.
Scott has published several recent Wall Street Journal columns including "Why Obama Can't Move the Health Care Numbers" and how Obama won the White House by campaigning like Ronald Reagan. He has also written an overview of the health care reform debate, a look at how President Obama is losing independent voters, and was the first to note the decline in the president's approval ratings.
You can also learn about Scott's favorite place on earth and his time working with hockey legend Gordie Howe.
It is important to remember that the Rasmussen Reports job approval ratings are based upon a sample of likely voters. Some other firms base their approval ratings on samples of all adults. President Obama's numbers are always several points higher in a poll of adults rather than likely voters. That's because some of the president's most enthusiastic supporters, such as young adults, are less likely to turn out to vote. It is also important to check the details of question wording when comparing approval ratings from different firms.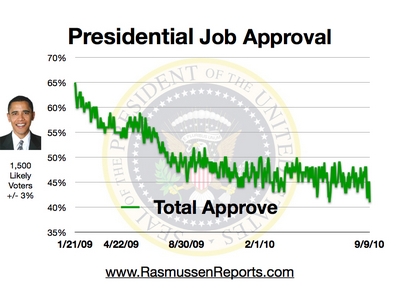 Rasmussen Reports has been a pioneer in the use of automated telephone polling techniques, but many other firms still utilize their own operator-assisted technology (see methodology). Pollsters for Presidents Jimmy Carter and Bill Clinton have cited our "unchallenged record for both integrity and accuracy."
The Pew Center noted that Rasmussen Reports beat traditional media in covering Scott Brown's upset win in Massachusetts earlier this year: "It was polling-not journalistic reporting-that caught the wave in the race to succeed Massachusetts Senator Edward M. Kennedy." Rasmussen Reports was also the first to show Joe Sestak catching Arlen Specter in the Pennsylvania Democratic Primary race this year.
In the 2009 New Jersey Governor's race, automated polls tended to be more accurate than operator-assisted polling techniques. On reviewing the state polling results from 2009, Mickey Kaus offered this assessment, "If you have a choice between Rasmussen and, say, the prestigious N.Y. Times, go with Rasmussen!"
In 2008, Obama won 53%-46% and our final poll showed Obama winning 52% to 46%. While we were pleased with the final result, Rasmussen Reports was especially pleased with the stability of our results. On every single day for the last six weeks of the campaign, our daily tracking showed Obama with a stable and solid lead attracting more than 50% of the vote.
We also have provided a summary of our 2008 state-by-state presidential results for your review.
In 2004 George W. Bush received 50.7% of the vote while John Kerry earned 48.3%. Rasmussen Reports polling projected that Bush would win 50.2% to 48.5%. We were the only firm to project both candidates' totals within half a percentage point by (see our 2004 results).
See also our 2008 state results for Senate and governor.
See 2006 results for Senate and Governor.
Daily tracking results are collected via telephone surveys of 500 likely voters per night and reported on a three-day rolling average basis. The margin of sampling error-for the full sample of 1,500 Likely Voters–is +/- 3 percentage points with a 95% level of confidence. Results are also compiled on a full-week basis and crosstabs for full-week results are available for Platinum Members.
Like all polling firms, Rasmussen Reports weights its data to reflect the population at large (see methodology). Among other targets, Rasmussen Reports weights data by political party affiliation using a dynamic weighting process. While partisan affiliation is generally quite stable over time, there are a fair number of people who waver between allegiance to a particular party or independent status. Since the November 2008 election, the number of Democrats in the country has declined while the number of unaffiliated voters has grown.
Our baseline targets are established based upon separate survey interviews with a sample of adults nationwide completed during the preceding three months (a total of 45,000 interviews) and targets are updated monthly. Currently, the baseline targets for the adult population are 35.3% Democrats, 32.9% Republicans, and 31.8% unaffiliated. Likely voter samples typically show a slightly smaller advantage for the Democrats.
Click here to read the full report
September 9, 2010
New York Times
by Sarah Lyall
"You are my 10th prime minister," Queen Elizabeth observes to Tony Blair when she meets him at Buckingham Palace on his first day in office in 1997, according to "A Journey: My Political Life," Mr. Blair's new memoir. "The first was Winston. That was before you were born."
It is a memorable scene, one that (along with another one depicting Prince Philip manning the barbecue at a family cookout) has reportedly displeased the queen, since it is considered rude and uncouth for prime ministers to reveal secret details about private encounters with the royal family. But in what was the latest curveball in the carefully choreographed publicity campaign for Mr. Blair's book, it turns out that the queen may not have actually said what Mr. Blair claims she said.
Or maybe she did, but only in the movies. In "The Queen," the 2006 film about the aftermath of the death of Diana, Princess of Wales, Helen Mirren, playing Elizabeth, greets Michael Sheen, playing Mr. Blair, saying in part: "You are my 10th prime minister, Mr. Blair. My first was Winston Churchill."
Peter Morgan, screenwriter of "The Queen," said that the scene in the film was entirely fictional, based on his imagination. Since it is unlikely that he "guessed absolutely perfectly," Mr. Morgan told The Daily Telegraph, perhaps Mr. Blair "had one gin and tonic too many" and — like Ronald Reagan before him — "confused the scene in the film with what actually happened."
Mr. Blair has always maintained that he has never seen "The Queen," which depicts him as chirpy and ingratiating, but also politically astute.
A spokesman for Knopf, his publisher, repeated that assertion on Wednesday — the accusation is merely "a good P.R. gambit by Morgan to direct folks to their Netflix queue," said the spokesman, Paul Bogaards, who is acting as Mr. Blair's media representative for the book. So the mystery of the coincidence will have to remain so.
In any case, Mr. Blair's book does not appear to be suffering for it.
Tony Blair has always been a man of contradiction, and the latest is this: Even as angry, protesting crowds are forcing him to cancel long-planned publicity events in London, his book is selling as if he were the most popular person alive. In Britain, according to Nielsen BookScan, "A Journey" has sold 92,000 copies in hardcover in less than a week — the company's best opening week for an autobiography since it began keeping figures in 1998.
In the United States, where his publisher has printed an additional 25,000 copies since its first printing of 50,000 copies, the book is to make its debut on The New York Times's hardcover best-seller list at No. 3 on Sept. 19. On Amazon, it is already selling at No. 13 for all books.
"It's been absolutely remarkable," said Fiona Allen, a spokeswoman for the Waterstone's book chain in Britain. "We issued a release at the end of Day 1, saying it was proving to be our fastest-selling political memoir of all time. It was breaking all these records, no problem at all, and then it was becoming clear that it was selling more than any other autobiography we've ever had." More, for instance, than "David Beckham: My Side," the soccer star's memoir, with its fetching cover photograph.
You wouldn't know it to see the vehemence of the anti-Blair protests here. Though "A Journey" has gotten mixed reviews, the critics have taken it seriously, with many praising Mr. Blair for having obviously written it himself, and for being unusually candid about the vicissitudes of life in high office. So the former prime minister was probably surprised when, arriving at a bookstore in Dublin over the weekend, he was greeted by a throng of angry protesters loudly chanting "Butcher Blair," trying to penetrate the security perimeter around the store and throwing eggs, plastic bottles and other objects at him.
The incident proved unnerving enough that Mr. Blair canceled his big book signing event in London, which was to have been held at lunchtime on Wednesday at Waterstone's flagship store in Piccadilly. And then he canceled his private book party, a planned celebration at the Tate Modern gallery on Wednesday night, explaining that he did not want to subject his friends to the "unpleasant and frightening" experience of dealing with protesters.
"It is sad, in a way, because you should have the right to sign books or see your friends if you want to," Mr. Blair told a television interviewer on Wednesday. "But it was going to cause so much hassle."
The protests have faint echoes of another fictional depiction of Mr. Blair, in the guise of former Prime Minister Adam Lang in Robert Harris's thriller, "The Ghost." In the book, which was made into the Roman Polanski film "The Ghost Writer," Mr. Lang, a thinly disguised version of Mr. Blair, can barely leave the house without being hounded by anti-Iraq-war protesters. Rejected in Britain, he lives in virtual exile in the United States, cheering himself up with visits to his dwindling band of admirers, most of them in the American government.
It is not so bad with Mr. Blair. The protesters, led by a group called the Stop the War Coalition, have not driven him out of the country, for example.
"Not everybody hates him," said Andrew Rawnsley, a political journalist and author of "The End of the Party," about the Labour government's long goodbye. "There is a small section of people who absolutely hate him. There's a section of people who still quite admire and like him — remember, he did win three elections. And a large proportion of people have quite ambiguous feelings about him, but are fascinated by him."
Neill Denny, editor in chief of The Bookseller, a trade publication, said, "We are in the 'all publicity is good publicity' sphere here — all the publicity builds excitement for the book."
He went on: "It's a false premise to say that because people hate him, they won't want to buy his book. They might find him a megalomaniacal, egocentric person, but also a fascinating study in his own right."
Ms. Allen, the Waterstone's spokeswoman, said that Mr. Blair's book had become "a must-read for people wanting to participate in daily life."
"A book can get to the point where if you haven't read it, and you don't know what it's all about, then you are out of the loop," she said. In addition, she said, political memoirs, particularly of former prime ministers, have been selling briskly for some time.
"There's definitely a heightened atmosphere, and an appetite for reading political books," Ms. Allen said.
Mr. Blair has a number of planned events in the United States next week, Mr. Bogaards said. These include a conversation with Katie Couric at the 92nd Street Y; an appearance on "The Daily Show With Jon Stewart"; and an appearance at the National Constitutional Center in Philadelphia, where he is to receive the 2010 Liberty Medal from former President Bill Clinton.
Those will undoubtedly help lift sales, too.
As Mr. Denny pointed out, "The number of protesters is still pretty small compared to the number of buyers of the book."
Click here to read the full report
July 30, 2010
LA Times
by Peter Nicholas & Janet Hook
If Ronald Reagan was the classic Teflon president, Barack Obama is made of Velcro.
Through two terms, Reagan eluded much of the responsibility for recession and foreign policy scandal. In less than two years, Obama has become ensnared in blame.
Hoping to better insulate Obama, White House aides have sought to give other Cabinet officials a higher profile and additional public exposure. They are also crafting new ways to explain the president's policies to a skeptical public.
But Obama remains the colossus of his administration — to a point where trouble anywhere in the world is often his to solve.
The president is on the hook to repair the Gulf Coast oil spill disaster, stabilize Afghanistan, help fix Greece's ailing economy and do right by Shirley Sherrod, the Agriculture Department official fired as a result of a misleading fragment of videotape.
What's not sticking to Obama is a legislative track record that his recent predecessors might envy. Political dividends from passage of a healthcare overhaul or a financial regulatory bill have been fleeting.
Instead, voters are measuring his presidency by a more immediate yardstick: Is he creating enough jobs? So far the verdict is no, and that has taken a toll on Obama's approval ratings. Only 46% approve of Obama's job performance, compared with 47% who disapprove, according to Gallup's daily tracking poll.
"I think the accomplishments are very significant, but I think most people would look at this and say, 'What was the plan for jobs?' " said Sen. Byron L. Dorgan (D-N.D.). "The agenda he's pushed here has been a very important agenda, but it hasn't translated into dinner table conversations."
Reagan was able to glide past controversies with his popularity largely intact. He maintained his affable persona as a small-government advocate while seeming above the fray in his own administration.
Reagan was untarnished by such calamities as the 1983 terrorist bombing of the Marines stationed in Beirut and scandals involving members of his administration. In the 1986 Iran-Contra affair, most of the blame fell on lieutenants.
Obama lately has tried to rip off the Velcro veneer. In a revealing moment during the oil spill crisis, he reminded Americans that his powers aren't "limitless." He told residents in Grand Isle, La., that he is a flesh-and-blood president, not a comic-book superhero able to dive to the bottom of the sea and plug the hole.
"I can't suck it up with a straw," he said.
But as a candidate in 2008, he set sky-high expectations about what he could achieve and what government could accomplish.
Clinching the Democratic nomination two years ago, Obama described the moment as an epic breakthrough when "we began to provide care for the sick and good jobs to the jobless" and "when the rise of the oceans began to slow and our planet began to heal."
Those towering goals remain a long way off. And most people would have preferred to see Obama focus more narrowly on the "good jobs" part of the promise.
A recent Gallup poll showed that 53% of the population rated unemployment and the economy as the nation's most important problem. By contrast, only 7% cited healthcare — a single-minded focus of the White House for a full year.
At every turn, Obama makes the argument that he has improved lives in concrete ways.
Without the steps he took, he says, the economy would be in worse shape and more people would be out of work. There's evidence to support that. Two economists, Mark Zandi and Alan Blinder, reported recently that without the stimulus and other measures, gross domestic product would be about 6.5% lower.
Yet, Americans aren't apt to cheer when something bad doesn't materialize.
Unemployment has been rising — from 7.7% when Obama took office, to 9.5%. Last month, more than 2 million homes in the U.S. were in various stages of foreclosure — up from 1.7 million when Obama was sworn in.
"Folks just aren't in a mood to hand out gold stars when unemployment is hovering around 10%," said Paul Begala, a Democratic pundit.
Insulating the president from bad news has proved impossible. Other White Houses have tried doing so with more success. Reagan's Cabinet officials often took the blame, shielding the boss.
But the Obama administration is about one man. Obama is the White House's chief spokesman, policy pitchman, fundraiser and negotiator. No Cabinet secretary has emerged as an adequate surrogate. Treasury Secretary Timothy F. Geithner is seen as a tepid public speaker; Energy Secretary Steven Chu is prone to long, wonky digressions and has rarely gone before the cameras during an oil spill crisis that he is working to end.
So, more falls to Obama, reinforcing the Velcro effect: Everything sticks to him. He has opined on virtually everything in the hundreds of public statements he has made: nuclear arms treaties, basketball star LeBron James' career plans; Chelsea Clinton's wedding.
Few audiences are off-limits. On Wednesday, he taped a spot on ABC's "The View," drawing a rebuke from Democratic Pennsylvania Gov. Edward G. Rendell, who deemed the appearance unworthy of the presidency during tough times.
"Stylistically he creates some of those problems," Eddie Mahe, a Republican political strategist, said in an interview. "His favorite pronoun is 'I.' When you position yourself as being all things to all people, the ultimate controller and decision maker with the capacity to fix anything, you set yourself up to be blamed when it doesn't get fixed or things happen."
A new White House strategy is to forgo talk of big policy changes that are easy to ridicule. Instead, aides want to market policies as more digestible pieces. So, rather than tout the healthcare package as a whole, advisors will talk about smaller parts that may be more appealing and understandable — such as barring insurers from denying coverage based on preexisting conditions.
But at this stage, it may be late in the game to downsize either the president or his agenda.
Sen. Richard J. Durbin (D-Ill.) said: "The man came in promising change. He has a higher profile than some presidents because of his youth, his race and the way he came to the White House with the message he brought in. It's naive to believe he can step back and have some Cabinet secretary be the face of the oil spill. The buck stops with his office."
Click here to read the full report
July 7, 2010
Gallup
By: Jeffery M. Jones
Thirty-eight percent of independents approve of the job Barack Obama is doing as president, the first time independent approval of Obama has dropped below 40% in a Gallup Daily tracking weekly aggregate. Meanwhile, Obama maintains the support of 81% of Democrats, and his job approval among Republicans remains low, at 12%.
These data are based on Gallup Daily tracking interviews conducted the week of June 28-July 4.
Over the past year, Obama has lost support among all party groups, though the decline has been steeper among independents than among Republicans or Democrats. Today's 38% approval rating among independents is 18 percentage points lower than the 56% found July 6-12, 2009. During the same period, his support has fallen nine points among Democrats (from 90% to 81%) and eight points among Republicans (from 20% to 12%).
Overall, 46% of Americans approve of the job Obama is doing as president in the June 28-July 4 aggregate, one point above his lowest weekly average. Obama's average weekly job approval rating has not been above 50% since Feb. 8-14, though it reached the 50% mark as recently as May 3-9.
Obama's lower ratings come amid a still-struggling economy, the ongoing difficulties presented by the oil spill in the Gulf of Mexico, and the recent change of command in the war in Afghanistan. Underscoring the challenge at hand, Obama's 44% approval rating in July 2-5 polling (Gallup did not interview July 4) ties his lowest three-day average to date.
Bottom Line
Obama is not alone in facing a challenging second year in office — Bill Clinton (43%), Ronald Reagan (42%), and Jimmy Carter (40%) all were below the majority approval level in July of their second year. Of course, each of those presidents saw his party lose a substantial number of seats in that year's midterm congressional elections, though both Reagan and Clinton recovered in time to win a second term as president.
Gallup Daily tracking of Election 2010 voting preferences suggests a more favorable Republican than Democratic outcome this year if the elections were held today. Even so, there are still nearly four months remaining before the elections, and thus, time for the Democrats' prospects to improve.
Explore Obama's approval ratings in-depth and compare to past presidents in the Gallup Presidential Job Approval Center.
Survey Methods
Results are based on telephone interviews conducted as part of Gallup Daily tracking June 28-July 3, 2010, with a random sample of 3,055 adults, aged 18 and older, living in all 50 U.S. states and the District of Columbia, selected using random-digit-dial sampling.
For results based on the total sample of national adults, one can say with 95% confidence that the maximum margin of sampling error is ±2 percentage points.
For results based on the total sample of 1,045 independents, one can say with 95% confidence that the maximum margin of sampling error is ±4 percentage points.
Interviews are conducted with respondents on landline telephones and cellular phones, with interviews conducted in Spanish for respondents who are primarily Spanish-speaking. Each daily sample includes a minimum quota of 150 cell phone respondents and 850 landline respondents, with additional minimum quotas among landline respondents for gender within region. Landline respondents are chosen at random within each household on the basis of which member had the most recent birthday.
Samples are weighted by gender, age, race, Hispanic ethnicity, education, region, adults in the household, cell phone-only status, cell phone-mostly status, and phone lines. Demographic weighting targets are based on the March 2009 Current Population Survey figures for the aged 18 and older non-institutionalized population living in U.S. telephone households. All reported margins of sampling error include the computed design effects for weighting and sample design.
In addition to sampling error, question wording and practical difficulties in conducting surveys can introduce error or bias into the findings of public opinion polls.
Click here to read full article
July 6, 2010
Las Vegas Review Journal
By: Wayne Allyn Root
As former President Ronald Reagan might have said, "Obama, there you go again."
The current occupant of the White House claims to know how to create jobs. He claims jobs have been created. But so far the score is Great Obama Depression 2.2 million lost jobs, Obama 0 — a blowout.
Obama is as hopeless, helpless, clueless and bankrupt of good ideas as the manager of the Chicago Cubs in late September. This "community organizer" knows as much about private-sector jobs as Pamela Anderson knows about nuclear physics.
It's time to call Obama what he is: The Great Jobs Killer. With his massive spending and tax hikes — rewarding big government and big unions, while punishing taxpayers and business owners — Obama has killed jobs, he has killed motivation to create new jobs, he has killed the motivation to invest in new businesses, or expand old ones. With all this killing, Obama should be given the top spot on the FBI's Most Wanted List.
Meanwhile, he has kept the union workers of GM and Chrysler employed (with taxpayer money). He has made sure that most government employee union members got their annual raises for sleeping on the job (with taxpayer money). He made sure that his voters got handouts mislabeled as "tax cuts" even though they never paid taxes (with taxpayer money). And he made sure that major campaign contributors collected billions off government stimulus (with taxpayer money).
As far as the taxpayers — the people who actually take risks with our own money to create small businesses and jobs and pay most of the taxes — we require protection under the Endangered Species Act.
You won't find proof of the damage Obama is doing on Wall Street, but rather on Main Street. My friends are all part of the economic engine of America: Small business. Small business creates 75 percent of new jobs (and a majority of all jobs). I called one friend who was a wealthy restaurant owner. He says business is off by 60 percent. He's drowning in debt. He won't last much longer. His wealth is gone.
I called another friend in the business of home improvement. He says business is off 90 percent from two years ago. My contractor just filed personal bankruptcy. She won't be building any more homes. The hair salon where I've had my hair cut for years closed earlier this year. Bankrupt. But here's the clincher — ESPN Zone just closed all their restaurants across the country. If they can't make it selling cheap food and overpriced beer with 100 big screens blaring every sporting event on the planet to a sports-crazed society, we are all in deep, deep trouble.
I've polled all my friends who own small businesses — many of them in the Internet and high-tech fields. They all agree that in this new Obama world of high business taxes, income taxes, payroll taxes, capital gains taxes, and workers compensation taxes, the key to success is to avoid employees. The only way to survive as a business owner today is by keeping the payroll very low and by hiring only independent contractors or part-time employees provided by temp agencies.
The days of jobs in the private sector with big salaries, full benefits, and pensions are over. We've all seen where those kinds of jobs get you as a business owner — in Bankruptcy Court or surviving on government welfare like GM and Chrysler. Or in the case of government itself — completely insolvent, but surviving by ripping off taxpayers and fraudulently running printing presses at the Fed all day and night to print money by the trillions.
Unfortunately, small businesses don't have the power to impose taxes or print money. So unlike government, we'll just have to cut employees and run lean and mean.
It has now become clear that, outside of the burgeoning field of Census takers, there will be no major increase in new jobs for years to come. Outside government, Obama has created a wasteland of economic ruin and depression that looks much like the landscape of Mel Gibson's first movie "Mad Max." Without a printing press in Obama's world, you're just plain out of luck.
The days of believing the Obama propaganda about a jobs recovery are over. The trillion-dollar corporate handouts (neatly named "stimulus") may have kept big business in the money for the past 18 months, and artificially propped up the stock market, but small business is the real canary in the coal mine.
My small business-owning friends aren't creating one job. Not one. They are shedding jobs. They are learning to do more with fewer employees. They are creating high-tech businesses that don't need employees. And many business owners are making plans to leave the country. In a high-tech world where businesses can be run from anywhere, Obama has a problem. His one-trick pony — raise taxes, raise taxes, raising taxes — is chasing away the business owners he desperately needs to pay his bills.
So who is going to pay Obama's taxes? Not his voters. They want government to pay them. Who is going to create Obama's jobs? Not his voters — they've never created a job in their lives.
So what is Obama going to do? Maybe he can get Pamela Anderson on the line.
Wayne Allyn Root, a former vice presidential nominee for the Libertarian Party, writes from Henderson. His column appears every other week.
Today, Kevin explains why Americans are mad as hell and aren't going to take it anymore! And political guru, Dick Morris, stops by to discuss the scam Barack Obama is calling health care reform.
Self Help:
Essential Vitamin E Supplements
KT's Favorite Cleanses
For Superior Health Results
Weight Loss Cure
NWO:
Federal Brown Shirt Thugs Threaten Citizens
CIA Can Threaten You with Secret Information
U.S. Army Seeking Experts for Concentration Camps

Government:
Dirty Secret #1
Ronald Reagan Speaks Out Against Socialized Medicine
Wealth:
Exposing The Credit Card Scam

Everything Kevin:
Become An Insider!
Kevin is on YouTube!
Sign Up For Kevin's FREE Podcast
Follow Kevin on Twitter
Become Kevin's Friend on Facebook
Kevin's Film Club
Kevin's Book Club
Take Trudeau on the Go! Click here to download this show to your iPod, mp3 player, or PC through iTunes!


Click below to watch the Kevin Trudeau Show LIVE!

Today, Kevin explains why Americans are mad as hell and aren't going to take it anymore!
Federal Brown Shirt Thugs Threaten Citizens in the Middle of the Night.
The CIA Can Threaten You with Secret Information
The U.S. Army is Seeking Experts for Concentration Camps
Barack Obama vs Adolf Hitler
Ronald Reagan Speaks Out Against Socialized Medicine.
Essential Vitamin E Supplements
Plus, Kevin speaks with political insider, Dick Morris, about the scam Barack Obama is calling healthcare reform.
Take Trudeau on the Go! Click here to download this show to your iPod, mp3 player, or PC through iTunes!