April 17, 2012
CNN
By Dianna Magnay
The man accused of killing 77 people in a bomb-and-gun rampage in Norway last summer claimed as he went on trial for terrorism and murder Monday that self-defense justified his actions.
"I acknowledge the acts but do not plead guilty, and I claim I was doing it in self-defense," Anders Behring Breivik told a court in Oslo. The court recorded a plea of not guilty for him.
Prosecutors played a recording of a terrified girl phoning for help during the shooting spree that left 69 people dead, many of them teens and young adults. The audio was punctuated by constant firing in the background.
They also showed security camera video of the central Oslo bomb blast that killed eight people, images that participants in the trial watched with ashen faces.
Breivik was charged last month with committing acts of terror and voluntary homicide.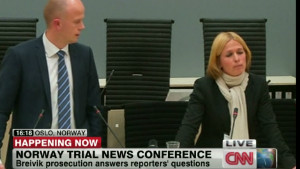 Breivik prosecution, defense sound off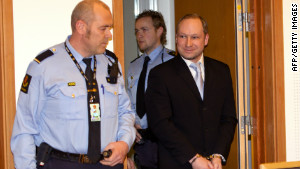 2nd study declares Norway gunman sane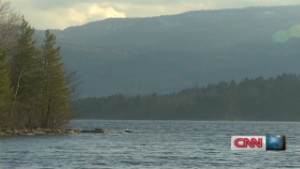 Victims remember massacre in Norway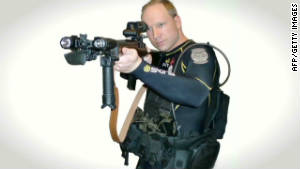 Inside the Norway terror suspect's mind
The trial is expected to last up to 10 weeks.
His defense will try to prove he was sane at the time of the killings, his lawyer, Geir Lippestad, said Monday.
It is important to Breivik that he be considered sane, Lippestad told reporters after Monday's hearing concluded, saying the defendant had his reasons. He did not say what the reasons were.
Experts have given different opinions about Breivik's sanity, which will be a factor in determining what punishment he receives if he is convicted. Options include imprisonment or confining him to a mental facility. Norway does not have the death penalty.
Authorities have described him as a right-wing Christian extremist. A 1,500-page manifesto attributed to him and posted on the Internet is critical of Muslim immigration and European liberalism, including Norway's Labour Party.
As the trial opened, he raised a clenched fist and said he did not recognize the authority of the court.
He called the trial political and objected to the judge's friendship with a former justice minister.
"I do not recognize the Norwegian court. You've gotten your mandate from political parties that support multiculturalism," he said.
"OK, we will make a note of that general objection," Judge Wenche Elizabeth Arntzen said curtly.
Breivik later clarified that he was not raising a formal objection.
He listened impassively as prosecutor Inga Bejer Engh read the charges against him, describing how dozens of teenagers and young people were shot to death.
Breivik, in a black suit and jawline beard, read the indictment as the prosecutor spoke, showing no reaction as she listed the injuries the victims suffered on Utoya Island.
He was not physically restrained in court.
Prosecutors outlined his life before the killings, showing a photo of the messy room where he lived at his mother's house, listing his six failed businesses and referring to his many hours playing the online game "World of Warcraft."
Prosecutors said he had "no job, no salary, no money from the government" and was "living off his savings."
He smiled briefly when his "Warcraft" character was shown, one of the few times he showed emotion on Monday.
He also appeared to be overcome with emotion, fighting back tears, when part of his video manifesto "Knights Templar 2083″ was played in court.
Lippestad declined to say why Breivik wept, citing attorney-client privilege.
Lawyers for the victims said: "No one thought he was crying for the victims."
A survivor of Utoya Island, Tore Sinding Bekkedal, said during a break in the proceedings that he was surprised to experience "a strange feeling of relief" when prosecutors switched from listing the names of the dead to those of the wounded.
"It was an intense gratitude. It took me by surprise that I felt it, that these wonderful people are still among us, that we managed to save these ones at least," he said.
Breivik is due to begin testifying Tuesday, and asked Monday for his testimony to be broadcast, claiming it as a human right.
Most of the relatives of the victims do not want that to happen, according to lawyers who represent the families of victims and survivors.
The trial was adjourned Monday afternoon after about six hours of legal proceedings.
"It's going to be 10 weeks of hell … to hear this man, to hear his explanation of why he did it and how he did it," said Trond Henry Blattmann, whose son was killed on Utoya Island.
In November, prosecutors said psychiatrists had determined that Breivik was paranoid and schizophrenic at the time of the attacks and during 13 interviews experts conducted with him afterward.
However, the court sought a second opinion because of the importance of the question of sanity to Breivik's trial.
In a report released this month, two court-appointed psychiatric experts said Breivik was sane at the time of the alleged crimes.
The victims on Utoya Island were among 700 mostly young people attending a Labour Party camp.
It was the same camp Norwegian Prime Minister Jens Stoltenberg said he had attended every summer since 1974.
"I think that one of the main messages from Norway after the tragedy … was that we were going to protect our democracy. And part of our democracy is the divisions of responsibilities between the government and the courts. It's up to the courts to decide whether this man is going to be sentenced or not, whether he is insane or not. It's not a question which is going to be decided by politicians. That's part of our democratic society," Stoltenberg said.
Breivik insists that nobody could believe that he was insane and describes questions about his mental condition as ridiculous, his attorney has said.
Breivik claims the shooting rampage was meant to save Norway from being taken over by multicultural forces and to prevent ethnic cleansing of Norwegians, Lippestad said.
Tore Bjorgo, a terror expert and professor at Norwegian Police University College, said Breivik appears to be overly concerned about his self-image and sees himself in the role of a "fantastic, great person who will save Europe."
"It's we who should decide what kind of a society we want; it's not the terrorists," he said. "And the logic of terrorism is to try to provoke responses to get people to act in ways the terrorists want, and it was important that we didn't do that. We didn't go down that road, and that was, I think, a big victory."
learn more at CNN
April 11, 2012
RT
By RT
"It looks like war with Iran is inevitable. How sad." –KTRN
The USS Enterprise has been sent to the Persian Gulf, the US Navy said Monday as tensions rise over Iran's nuclear program. It will be the fourth time in the last decade the US has had two aircraft carriers on simultaneous missions in the area.
­The deployment of the second aircraft is "routine and not specific to any threat," stated Commander Amy Derrick-Frost of the Bahrain-based Fifth Fleet. The Enterprise and its strike group entered the fleet's area of responsibility on April 3.
Routine deployment or not, it was mostly during wars when the Persian Gulf saw two US aircraft carriers operating in the region at the same time in the last ten years: in the US-led invasion of Iraq in March 2003 and in supporting the wars in Iraq and Afghanistan in February 2007.
Click here for the full report.
March 12, 2012
Daily Mail
By Beth Stebner
"The US military once again shows it's true colors.  This would never have even happened if they weren't there to begin with.  It's time to bring these men and women home."  –KTRN
Nine children and three women were among 16 innocent Afghan civilians shot and killed by a U.S. soldier who opened fire after suffering a 'mental breakdown' early this morning.
The soldier reportedly entered the Afghan family's homes in the middle of the night and opened fire on his victims in a killing spree. A relative of the deceased added that he then 'poured chemicals over their dead bodies and burned them.'
The U.S service member is said to have surrendered to U.S. military authorities after entering the three homes, and is currently in their custody. Afghan president Hamid Karzai condemned the attacks as 'an assassination' and demanded an explanation from the U.S.
The attack could deepen strife between the two countries, as it comes weeks after NATO soldiers burned copies of the Koran – the Muslim holy book – sparking a violent protest that left some 30 people dead.
Click here for the full report.
March 12, 2012
Activist Post
By Stephen Lendman
"Even though the people want no more wars, the government can't wait to keep fighting.  And for what?"  –KTRN
Cheerled by America's major media scoundrels, war looks increasingly likely. Syria and Iran both are targeted.
Imagine the potential catastrophic consequences, especially if nuclear weapons are used. They were before. Why not now. The prospect's chilling.
In his Der Ring des Nibelungen operas (the Ring), Richard Wagner portrayed his apocalyptic version musically. Gotterdammerung (Twilight of the Gods) prophesied the end of the world.
Einstein suggested it, saying he didn't know what WW III weapons would be used, "but World War IV will be fought with sticks and stones."
Around the same time, Bertrand Russell warned:
"Shall we put an end to the human race, or shall mankind renounce war" and live in peace. The stark choice is clear. The wrong one suggests consequences too grim to imagine.
It's terrifying to imagine nuclear bunker-buster bombs used against underground targets. Whatever the physical damage, irradiating vast areas could kill millions, and set a precedent to keep using them like king-sized hand grenades.
A 13,600-kilogram bunker-buster's being developed. Called "the massive ordnance penetrator," allegedly it can smash through 65 meters of reinforced concrete before detonating.
Defense Secretary Panetta said work on an array of military options are being considered if sanctions don't curb Iran's nuclear program. He added they've been underway "a long time," and Washington's "weighing all of the ramifications of how best to deal with Iran."
It's hard imagining the mindset of hawkish policy makers. Grave consequences aren't considered, let alone waging permanent wars against nonbelligerent countries threatening no one.
Yet Obama's fulfilling Dick Cheney's promise about wars not ending in our lifetime. Former CIA Director James Woolsey said America's "engaged in World War IV, and it could continue for years….This fourth world war, I think, will last considerably longer than either World Wars I or II did for us."
In his September 11, 1990 joint session of Congress speech, GHW Bush called it a "New World Order" ahead of Operation Desert Storm.
Click here for the full report.
March 8, 2012
Info Wars
By Tony Cartalucci
"John McCain might be one the worst politicians in Washington. Here is just one more example of his tyrannical corruption." –KTRN
Even as McCain deceived the world with his comments in pursuit of overthrowing and destroying the sovereign nation-state of Libya, it was already a matter of record, according to America's own West Point Combating Terrorism Center, that Benghazi, and much of eastern Libya known as Cyrenaica, served as an epicenter for global Al Qaeda recruitment. Militants hailing from the eastern region's Libyan Islamic Fighting Group (LIFG) would end up in both Afghanistan and Iraq fighting Western troops and participating in sectarian violence.
This included LIFG leader Abdul Hakim Belhaj aka Abdul Hakim Hasadi, who first fought alongside the CIA against the Soviets in Afghanistan, then against US and British troops before eventually being captured by the US and handed over to Qaddafi who imprisoned him for 7 years. Upon his release, he would promptly be sponsored by NATO and the likes of John McCain, given arms, money, and training just as he was by the CIA during the Soviet Afghan-invasion, with the addition of NATO close air support in his bid to overthrow the Libyan government.
Belhaj and other militant factions constituting the "Libyan rebels" would go on a genocidal rampage throughout the country, encircling cities like Bani Walid and Sirte, cutting off food, water, electricity, and emergency aid while NATO mercilessly bombed populated city centers for days, weeks, and in the case of Sirte, months.
Belhaj is now the military commander of Tripoli and has been reported to be working with Syrian militants to repeat NATO's campaign of atrocities, destabilization, and Balkanization in Syria, where he is said to be importing weapons and funds as well as LIFG fighters.
There is no doubt that the men McCain was defending were LIFG fighters, terrorists linked directly with Al Qaeda according to West Point reports (.pdf), and listed to this day by the US State Department and the UK Home Office (.pdf) as a "foreign terrorist organization." McCain was not only rhetorically supporting listed terrorists, but providing material support including weapons, funds, training, and airsupport in direct violation of USC § 2339A & 2339B, "providing material support or resources to designated foreign terrorist organizations."
Click here for the full report.
March 7, 2012
Info Wars
By Kurt Nimmo
"Ron Paul is the only who gets it. He is not like the rest." –KTRN
On Super Tuesday, establishment GOP candidates pledged their fidelity to the foreign policy objectives of Israel and AIPAC as they strived to outdo each other in belligerent rhetoric aimed at Iran. Romney, Santorum and Gingrich promised to support an Israeli attack some analysts predict will occur in June.
"If Iran doesn't get rid of nuclear facilities, we will tear them down ourselves," said Rick Santorum, who has expressed strongly worded anti-Iran sentiment in the past. In January Santorum said he would not hesitate to launch an attack on Iran.
Attacking Iran over its unsubstantiated nuclear weapons program has remained at the forefront of his presidential campaign. In November, appearing before a small crowd in rural New Hampshire, Santorum called for a "preemptive strike" following a less than conclusive IAEA report on Iran's nuclear program.
"As I've sat and watched this play out on the world stage, I have seen a president who has been reticent," the former Pennsylvania senator said from the AIPAC stage in the nation's capitol while the other candidates remained on the campaign trial.
Mitt Romney delivered a satellite video speech to the convention. He promised that if he becomes president he will stand with Israel "in all conditions." Romney said he would end Obama's "procrastination" on confronting Iran by imposing further draconian sanctions. "I will make sure Iran knows of the very real peril that awaits if it becomes nuclear," he said.
"As president, I will be ready to engage in diplomacy. But I will be just as ready to engage our military might," Romney said.
Newt Gingrich also addressed the convention via satellite link from his home state of Georgia. He criticized Clinton's State Department for its policy on Iran and characterized U.S. intelligence as "timid."
Click here for the full report.
March 7, 2012
End The Lie
By Madison Ruppert
"It doesn't make much sense why anyone thinks these spy programs are a good idea. Let's say there is someone out there who is a jelous boyfriend who wants revenge. It would be pretty easy to use one of the programs in order to get someone in trouble on purpose as a sick joke.  This is no joke." –KTRN
Recently I reported on the concerted effort to bring citizen spying into the digital age with applications on smartphones which can be used to report "suspicious activity" to local homeland security fusion centers.
This has expanded even more thanks to the hard work of individuals like 25-year-old Eman Pahlevani, a student at the University of New Hampshire School of Law.
Pahlevani launched an application last month called CrimePush after several months of development with his brother and a friend.
The application allows users to send in reports in the form of text, pictures or video directly to local law enforcement after police dispatch centers set up their accounts with CrimePush.
After the dispatchers have registered, users of Android-based devices and Apple iPhones within the given area are able to download the application dedicated to that location and start sending in tips, no matter how erroneous.
Interestingly, Pahlevani claims that at least one county in every single state in the United States had expressed interest in using the application in just the first three weeks after launching it.
He said that he has been getting a great deal of support from his professors, saying, "They've all given me a lot of feedback of: 'It's going to be a game changer for people who want to report crime and get information to police.'"
While this might be true, it's also going to be a game changer for police officers who are inundated by false reports, misleading information, maliciously submitted reports and so on.
In a question and answer session with the Concord Monitor out of Concord, New Hampshire, Pahlevani revealed that he decided to turn his idea into a mobile application to appeal to young people, or as he put it, "this generation growing up with Facebook, Twitter and YouTube. We thought this would be a good way to open up lines of communication between the younger generation and police authorities."
It's also a great way to condition people into reporting every little thing to police, especially when the federal government classifies just about everything as an indicator of possible terrorism.
Click here for the full report.
March 7, 2012
Activist Post
By Steve Watson
"This is really disturbing. Watch how easy this guy gets through the naked body scanner with a metal object in his pocket. He does it not just once, but twice. Here is just one more example that the TSA is not here to protect us." –KTRN
Google/YouTube has placed restrictions on yet another video that exposes the fraudulent claims of the TSA and highlights how the federal agency's security theatre is part of a wider social manipulation agenda.
Engineer Jon Corbett of the popular blog TSA Out of Our Pants! posted a video yesterday that demonstrates how the TSA's radiation firing body scanners can easily be bypassed.
The video shows Corbett carrying a metal case through the scanner, away from his body in his side pocket. Corbett explains that because metallic objects appear as black on the image the scanners produce, the machines do not pick up such objects if they are obscured by the background, which is also black.
Corbett has been rallying against the TSA for some time and has had several run ins with agents at airports. Corbett was also the first person in the country to sue the TSA for invasion of privacy. His case is still ongoing and is headed to the U.S. Supreme Court.
"The scanners are now effectively worthless, as anyone can beat them with virtually no effort." Corbett writes on his blog. "The TSA has been provided this video in advance of it being made public to give them an opportunity to turn off the scanners and revert to the metal detectors. I personally believe they now have no choice but to turn them off." he adds.
Within hours of the video being uploaded, blogs and news sites, including Yahoo News and the Mail Online had begun to pick up an the video, saying it was sure to go viral.
Now, despite the fact that the video contains no nudity, violence, abuse or other explicit content, YouTube has placed it behind an age restriction wall, meaning anyone who wants to view it on YouTube has to login or sign up for an account and verify their age.
"This video is not intended to teach anyone how to commit criminal acts, nor is intended to help "the terrorists" — if I could figure this out, I'm sure they've long figured it out, and by exposing it to the public, we now have an opportunity to correct it." Corbett writes on his blog.
Click here for the full report.
March 6, 2012
Info Wars
By Paul Joseph Watson
"It's not that add to think something is fishy about the death of Bin Laden. When you really think about it, the whole thing just doesn't add up. More lies." –KTRN
The deluge of Stratfor.com emails released a result of the recent Wikileaks data dump includes a brief note from Stratfor's vice president for intelligence Fred Burton in which he urges the U.S. government to show photos of Osama Bin Laden's corpse in order to silence "lunatics like Alex Jones and Glenn Beck" who had questioned the government's official narrative behind the death of the terror mastermind.
The email was sent from Fred Burton's account on the afternoon of May 2, 2011 – one day after President Obama announced that Bin Laden had been killed in a raid in Pakistan and his body had been "buried at sea".
First Burton bemoans the fact that US authorities apparently dumped Bin Laden's body in the sea, fearing a Muslim backlash.
"Although I don't really give a rats ass, it seems to me that by dropping the corpse in the ocean, the body will come back to haunt us….gotta be violating some sort of obscure heathen religious rule that will inflame islam? I was sleeping thru that class at Langley," he wrote.
Burton then urges the U.S. government to release photos of the body to silence critics who questioned whether the story about Bin Laden being "buried at sea" was a fabrication, or whether Bin Laden had been killed at all.
Click here for the full report.
March 6, 2012
RT
By RT
"Once again, Ron Paul is right. Putting sanctions on Iran is not going to help the problem – it's just going to cause more." –KTRN
President Barack Obama insists that sanctions are propelling Iran into a "world of hurt," but Congressman Ron Paul — who's currently vying to face Obama in the 2012 election — says it is the US that's being endangered with those actions.
From the campaign trail this week, Texas congressman and GOP presidential hopeful Ron Paul said that the current efforts being waged on Iran by the Obama White House by way of sanctions are doing nothing to stop Iran from advancing any nuclear program it could have in the works. It doesn't stop there, though. According to Paul, these sanctions will only spur Iran to invest more of its energies towards procuring a nuke.
Speaking Monday on CNN's State of the Union show, Congressman Paul was outspoken about what he says the real dangers of ongoing sanctions on Iran really are — and it's the exact opposite of what America would hope for.
"I think sanctions gives the motivation for them to want a nuclear weapon," explained the congressman, who has in the past insisted that America lacks any evidence to suggest Iran is involved in procuring a nuclear warhead. "We have 45 bases around them, we can demolish them within hours." On the congressman's part, the US has indeed heavily added manpower on seemingly all fronts surrounding Iran, mobilizing both ships and troops and equipping neighboring countries with ammunition as well. Although the US has put troops of all types around Iran, President Obama continues to stand by his plan of solving the nuclear warhead dilemma with diplomatic sanctions, not strikes.
Last week President Obama told The Atlantic that the sanctions would cripple Iran and force the nation to abandon its rumored nuclear program, but Paul — a long time opponent of unnecessary military interventionism — says this maneuver only makes it seem like America is asking for trouble.
Click here for the full report.