April 17, 2012
CNN
By Dianna Magnay
The man accused of killing 77 people in a bomb-and-gun rampage in Norway last summer claimed as he went on trial for terrorism and murder Monday that self-defense justified his actions.
"I acknowledge the acts but do not plead guilty, and I claim I was doing it in self-defense," Anders Behring Breivik told a court in Oslo. The court recorded a plea of not guilty for him.
Prosecutors played a recording of a terrified girl phoning for help during the shooting spree that left 69 people dead, many of them teens and young adults. The audio was punctuated by constant firing in the background.
They also showed security camera video of the central Oslo bomb blast that killed eight people, images that participants in the trial watched with ashen faces.
Breivik was charged last month with committing acts of terror and voluntary homicide.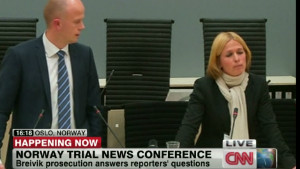 Breivik prosecution, defense sound off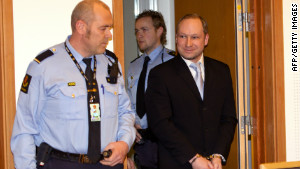 2nd study declares Norway gunman sane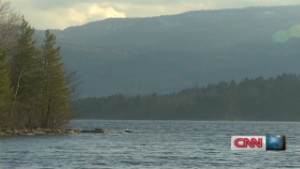 Victims remember massacre in Norway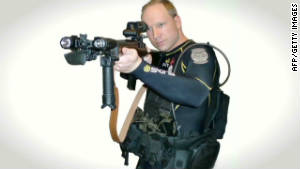 Inside the Norway terror suspect's mind
The trial is expected to last up to 10 weeks.
His defense will try to prove he was sane at the time of the killings, his lawyer, Geir Lippestad, said Monday.
It is important to Breivik that he be considered sane, Lippestad told reporters after Monday's hearing concluded, saying the defendant had his reasons. He did not say what the reasons were.
Experts have given different opinions about Breivik's sanity, which will be a factor in determining what punishment he receives if he is convicted. Options include imprisonment or confining him to a mental facility. Norway does not have the death penalty.
Authorities have described him as a right-wing Christian extremist. A 1,500-page manifesto attributed to him and posted on the Internet is critical of Muslim immigration and European liberalism, including Norway's Labour Party.
As the trial opened, he raised a clenched fist and said he did not recognize the authority of the court.
He called the trial political and objected to the judge's friendship with a former justice minister.
"I do not recognize the Norwegian court. You've gotten your mandate from political parties that support multiculturalism," he said.
"OK, we will make a note of that general objection," Judge Wenche Elizabeth Arntzen said curtly.
Breivik later clarified that he was not raising a formal objection.
He listened impassively as prosecutor Inga Bejer Engh read the charges against him, describing how dozens of teenagers and young people were shot to death.
Breivik, in a black suit and jawline beard, read the indictment as the prosecutor spoke, showing no reaction as she listed the injuries the victims suffered on Utoya Island.
He was not physically restrained in court.
Prosecutors outlined his life before the killings, showing a photo of the messy room where he lived at his mother's house, listing his six failed businesses and referring to his many hours playing the online game "World of Warcraft."
Prosecutors said he had "no job, no salary, no money from the government" and was "living off his savings."
He smiled briefly when his "Warcraft" character was shown, one of the few times he showed emotion on Monday.
He also appeared to be overcome with emotion, fighting back tears, when part of his video manifesto "Knights Templar 2083″ was played in court.
Lippestad declined to say why Breivik wept, citing attorney-client privilege.
Lawyers for the victims said: "No one thought he was crying for the victims."
A survivor of Utoya Island, Tore Sinding Bekkedal, said during a break in the proceedings that he was surprised to experience "a strange feeling of relief" when prosecutors switched from listing the names of the dead to those of the wounded.
"It was an intense gratitude. It took me by surprise that I felt it, that these wonderful people are still among us, that we managed to save these ones at least," he said.
Breivik is due to begin testifying Tuesday, and asked Monday for his testimony to be broadcast, claiming it as a human right.
Most of the relatives of the victims do not want that to happen, according to lawyers who represent the families of victims and survivors.
The trial was adjourned Monday afternoon after about six hours of legal proceedings.
"It's going to be 10 weeks of hell … to hear this man, to hear his explanation of why he did it and how he did it," said Trond Henry Blattmann, whose son was killed on Utoya Island.
In November, prosecutors said psychiatrists had determined that Breivik was paranoid and schizophrenic at the time of the attacks and during 13 interviews experts conducted with him afterward.
However, the court sought a second opinion because of the importance of the question of sanity to Breivik's trial.
In a report released this month, two court-appointed psychiatric experts said Breivik was sane at the time of the alleged crimes.
The victims on Utoya Island were among 700 mostly young people attending a Labour Party camp.
It was the same camp Norwegian Prime Minister Jens Stoltenberg said he had attended every summer since 1974.
"I think that one of the main messages from Norway after the tragedy … was that we were going to protect our democracy. And part of our democracy is the divisions of responsibilities between the government and the courts. It's up to the courts to decide whether this man is going to be sentenced or not, whether he is insane or not. It's not a question which is going to be decided by politicians. That's part of our democratic society," Stoltenberg said.
Breivik insists that nobody could believe that he was insane and describes questions about his mental condition as ridiculous, his attorney has said.
Breivik claims the shooting rampage was meant to save Norway from being taken over by multicultural forces and to prevent ethnic cleansing of Norwegians, Lippestad said.
Tore Bjorgo, a terror expert and professor at Norwegian Police University College, said Breivik appears to be overly concerned about his self-image and sees himself in the role of a "fantastic, great person who will save Europe."
"It's we who should decide what kind of a society we want; it's not the terrorists," he said. "And the logic of terrorism is to try to provoke responses to get people to act in ways the terrorists want, and it was important that we didn't do that. We didn't go down that road, and that was, I think, a big victory."
learn more at CNN
February 17th, 2012
CNN
By: Aaron Smith
The healthcare company McNeil is recalling more than half a million bottles of Infants' Tylenol because of consumer complaints about the difficulties of using the dosing system.
McNeil is recalling about 574,000 bottles after receiving a "small number" of complaints regarding the so-called "dosing syringe" of the orally-administered over-the-counter painkiller. The company said that in some cases the "flow restrictor was pushed into the bottle when inserting the syringe."
The recall applies to one-ounce bottles of grape-flavored Infants' Tylenol Oral Suspension.
The company said there have been "no adverse events" from the problem and that "the risk of series adverse medical event is remote."
The company said that consumers can continue to use the product, despite the voluntary recall, so long as the flow restrictor remains in place at the top of the bottle.
McNeil, a subsidiary of Johnson & Johnson (JNJ, Fortune 500), has had numerous recalls in the recent past, especially with Tylenol.
The U.S. government took over three Tylenol plants last year for failure to comply with federally-mandated manufacturing procedures.
Click Here For The Full Report From CNN
May 19, 2010
KTVU.com
UC Berkeley is adding something a little different this year in its welcome package — cotton swabs for a DNA sample.
In the past, incoming freshman and transfer students have received a rather typical welcome book from the College of Letters and Science's "On the Same Page" program, but this year the students will be asked for more.
The students will be asked to voluntarily submit a DNA sample. The cotton swabs will come with two bar code labels. One label will be put on the DNA sample and the other is kept for the students own records.
The confidential process is being overseen by Jasper Rine, a campus professor of Genetics and Development Biology, who says the test results will help students make decisions about their diet and lifestyle.
Once the DNA sample is sent in and tested, it will show the student's ability to tolerate alcohol, absorb folic acid and metabolize lactose.
The results of the test will be put in a secure online database where students will be able to retrieve their results by using their bar code.
Rine hopes that this will excite students to be more hands-on with their college experience.
"This type of experience is one of the true, unique values of a Berkeley education. We don't just give you books to read," Mark Schlissel, dean of the division of biological sciences said. "We involve you in cutting edge issues in the humanities, social sciences and natural sciences. You won't see this anywhere else in higher education."
Previously incoming students were advised to read Michael Pollan's "The Omnivore's Dilemma" and Stephen Hawking's "A Briefer History of Time" as behavioral guides.
There will also be a variety of events and lectures at the campus on lifestyle choices for all undergraduate students who choose not to participate in the DNA program.
There will also be a science-themed art contest that will award the four best entries with a full genetic analysis.